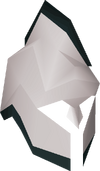 The third age full helm is a piece of armour that is part of the Third age warrior set. Level 65 Defence is required to wear the helmet. Many consider it as one of the best non-degradable melee helmets in the game, having a slightly better Defence bonus than that of a Dragon full helm. To obtain a third age full helmet the player can either complete a Level 3 Treasure trail or trade with another player.
The chance of obtaining any one piece of third-age melee armour is between 1 in 7,000 and 1 in 10,500. The chance of obtaining a specific piece of third-age melee armour is between 1 in 28,000 and 1 in 42,000.
Bonuses
Hover over image for type

A player wearing 3rd age melee armour
 Attack bonus
+0
+0
+0
-5
-2
 Defence bonus
+47
+49
+43
-3
+48
Other bonuses
Slot

list

+0
0
0%
+0
Ad blocker interference detected!
Wikia is a free-to-use site that makes money from advertising. We have a modified experience for viewers using ad blockers

Wikia is not accessible if you've made further modifications. Remove the custom ad blocker rule(s) and the page will load as expected.