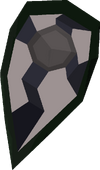 The 3rd age kiteshield is a piece of armour that is part of the Third age armour set. Level 65 Defence is required to wield the kiteshield. To obtain a third age warrior shield the player can either complete a level 3 Treasure Trail or trade with another player.
This shield is the fourth strongest shield in the game, beaten by the elysian spirit shield due to its damage negating ability, Dinh's bulwark, and by a fully charged dragonfire shield.
Interestingly enough, the stat bonuses of 3rd age kiteshield more closely resemble a square shield, rather than a kiteshield. It has equal ranged and stab defence bonuses.
The chance of obtaining any one piece of third-age melee armour is between 1 in 7,000 and 1 in 10,500. The chance of obtaining a specific piece of third-age melee armour is between 1 in 28,000 and 1 in 42,000.[1]
Bonuses
Hover over image for type

A player wearing 3rd age melee armour
 Attack bonus
+0
+0
+0
-10
-4
 Defence bonus
+63
+65
+61
-3
+63
Other bonuses
Slot

list

+0
0
0%
+0
References
Edit
Ad blocker interference detected!
Wikia is a free-to-use site that makes money from advertising. We have a modified experience for viewers using ad blockers

Wikia is not accessible if you've made further modifications. Remove the custom ad blocker rule(s) and the page will load as expected.