Ad blocker interference detected!
Wikia is a free-to-use site that makes money from advertising. We have a modified experience for viewers using ad blockers

Wikia is not accessible if you've made further modifications. Remove the custom ad blocker rule(s) and the page will load as expected.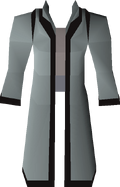 The 3rd age robe top is a member's only piece of armour that is part of the Third age mage set. To wear the top the player needs at least 30 Defence and 65 Magic. To obtain a third age mage top the player can either complete a Level 3 Treasure trail or trade with another player. Originally, the bonuses of this armour were equivalent to infinity robes obtained in the Mage Training Arena but were later altered to make this armour more a useful item rather than a collector's item.
The chance of obtaining any one piece of third-age mage armour is between 1 in 7,000 and 1 in 10,500. The chance of obtaining a specific piece of third-age mage armour is between 1 in 28,000 and 1 in 42,000.[1]
Bonuses
Hover over image for type

A player wearing 3rd age mage armour
 Attack bonus
+0
+0
+0
+24
+0
 Defence bonus
+0
+0
+0
+24
+0
Other bonuses
Slot

list

+0
0
0%
+0
References
Edit
Hats

 Void (+0) •  Elemental (+0) •  Mind (+0) •  Wizard(t)(g) (+2) •  Wizard(t)(g) (+2) •  Skeletal (+2) •  Xerician (+3) •  Gnome (+3) •  Canifis (+3) •  Fremennik (+3) •  Splitbark (+3) •  Ghostly (+3) •  Lunar (+3) •  Slayer helmet (i) (+3) •  Mystic (+4) •  Enchanted (+4) •  Darkness (+4) •  Mitre (+4) •  Elder (+5) •  Infinity (+6) •  Ahrim's (+6) •  Farseer (+6) •  Healer (+6)•  Third age (+8)

Robe tops

 Void (+0) •  Zamorak (+2) •  Wizard (t)(g) (+3) •  Black(t)(g) (+3) •  Vestment (+4) •  Ghostly (+5) •  Skeletal (+8) •  Elder (+10) •  Splitbark (+10) •  Lunar (+10) •  Xerician (+12) •  Mystic (+20) •  Enchanted (+20) •  Darkness (+20) •  Infinity (+22) •  Third age (+24) •  Ahrim's (+30)

Robe legs

 Void (+0) •  Blue(t)(g)(+0) •  Black (t)(g) (+0) •  Zamorak (+2) •  Ghostly (+4) •  Vestment (+4) •  Skeletal (+6) •  Elder (+6) •  Splitbark (+7) •  Lunar (+7) •  Xerician (+8) •  Mystic (+15) •  Enchanted (+15)•  Darkness (+15) •  Infinity (+17) •  Third age (+19) •  Ahrim's (+22)

Gloves

 Void (+0) •  Skeletal (+0) •  Hardleather (+1) •  Bronze (+1) •  Splitbark (+2) •  Ghostly (+2) •  Iron (+2) •  Steel (+2) •  Mystic (+3) •  Darkness (+3) •  Combat bracelet (+3) •  Regen bracelet (+3) •  Black (+3) •  Mithril (+3) •  Lunar (+4) •  Adamant (+4) •  Rune (+4) •  Infinity (+5) •  Dragon (+5) •  Barrows (+6) •  Tormented bracelet (+10)

Boots

 Skeletal (+0) •  Splitbark (+2) •  Ghostly (+2) •  Lunar (+2) •  Mystic (+3) •  Darkness (+3) •  Wizard (+4) •  Infinity (+5) •  Eternal (+8)

Capes

 Vestment cloak (+1) •  Fire cape (+1) •  Ardougne cloak 1 (+2) •  Ardougne cloak 2 (+4) •  Ardougne cloak 3 (+5) •  Ardougne cloak 4 (+6) •  God capes (+10)

Amulets

 Stole (+2) •  Accuracy (+4) •  Power (+6) •  Magic (t) (+10) •  Glory (t) (+10) •  Fury (or) (+10) •  Occult(or) (+12) •  Third age (+15)

Rings

 Lunar (+2) •  Seers' (+6) •  Seers' (i) (+12)

Shields

 Broodoo shield (+3) •  Book of balance (+4) •  Unholy book (+8) •  Book of darkness (+10) •  Malediction ward (+12) •  Mage's book (+15) •  Arcane spirit shield (+20)