Walkthrough
Edit
You'll need to have your kitten or cat following you the whole time throughout this quest. Equip your catspeak amulet and start the quest by talking to Unferth, who can be found in east Burthorpe in the house south of Dunstan. After starting, talk to Hild in the nearby house northeast of Unferth. She will enchant your catspeak amulet if you give her five death runes. You can now open it to find Bob's location. It works somewhat like a compass - when facing north, click the left or right whiskers to control the interface and point it in the right direction. When you see the central cat's eyes light up, go in that direction to find Bob. He can be anywhere in RuneScape.
List of Locations: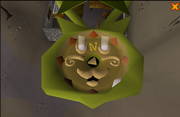 Strong Lineage
Edit
After finding Bob, talk to him. He will tell you that he's in love with Neite, but she has no idea what his origins are so she's not interested in him. Talk to Gertrude about Bob's family. She will tell you to research a warrior called Robert the Strong.
In the Varrock Palace library, talk to Reldo. He will tell you that Robert the Strong was much taller and stronger than any other man of his time. His longbow was six feet tall, and he fought immortal monsters known as the Dragonkin. He fought alongside a black panther.
Return to Bob. You and your cat will try to convince Bob he is Robert the Strong. Your cat will remind you of how the Sphinx knows how you were hypnotised, so perhaps it can hypnotise Bob.
Hidden memories
Edit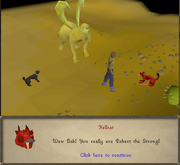 Talk to the Sphinx in Sophanem (southeast of pyramid). Ask her for help, and after a bit, you'll have the option to view a 5 minute cutscene or get a brief summary of what happens. If you choose the brief summary, you won't be offered the option of being teleported to Burthorpe.
During the cutscene, the Sphinx will teleport Bob to Sophanem and hypnotise him. Bob, thinking back on his earliest memories, recalls himself as Robert the Strong. He sees himself looking over at a tower beside Odysseus, followed by a battle between them and a dragonkin; the dragonkin manages to slay the panther and weaken Robert, but is killed by an immensely powerful attack by him.
After the cutscene, the Sphinx teleports Neite to Bob, who will be impressed and fall in love with him. Bob will tell you to keep his owner busy by doing his chores, and you will be given the option to teleport back to Burthorpe, or stay in Sophanem.
Bob's List
Edit
Go back to Unferth's house in Burthorpe and do these chores:
After you've done all of this, talk to Unferth again. He'll tell you that he's very ill and must see a doctor or a nurse. Talk to the Apothecary in Varrock (Located in the southwest of the city). He will tell you that Unferth is a hypochondriac - he thinks that he's sick all the time even though he really has been tested for illnesses and it's all in his head. You need to use the placebo effect on him - pick a doctor's hat or nurse's hat from the Apothecary, and wear some white robes (Princess robes don't work).
Go back to Unferth's house and give him a vial of water. His illness will clear up. Note: You can't be wielding a weapon/shield otherwise Unferth won't believe you.
Love-cats
Edit
Using your catspeak amulet, find Bob again and talk to him. He may have moved to another of the other locations mentioned above, or even in the same location as before. You'll see a cutscene showing all the adventures Bob takes Neite on, including a magic carpet ride in Sophanem, a conversation between Bob and the King Black Dragon (a player spoof known as R4ng3rNo0b889 also tries to attack the dragon, but the dragon kills him instantly), and a journey on the fishing trawler ship.
Warning: If at any time during the cutscene, you try to interact with the surroundings (i.e. trying to pick up the bones of the dead ranger), you will be sent back to Burthorpe and you'll have to find Bob again and start the cutscene over.
After the cutscene, talk to Unferth to get a present from Bob.