This article is about the weapon. For the item required to make the weapon, see
Kraken tentacle
.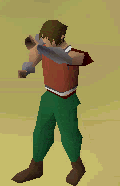 The Abyssal tentacle is a weapon which requires 75 attack to wield. It is created by combining a Kraken tentacle with an Abyssal whip. The abyssal tentacle has +8 Slash & +4 Strength more than an abyssal whip. It also has a 25% chance to poison your opponent for 4 damage. This also makes it have the highest slash bonus of any one-handed weapon in Old School RuneScape.
If the abyssal tentacle is not protected upon death, it will fully degrade into a kraken tentacle. However, if it is protected on death, it will remain in its regular state as the abyssal tentacle. In addition, the abyssal tentacle does not stack in the bank, regardless of the number of charges the Abyssal tentacles have.
When using the items on each other there will be a warning message that states The tentacle will gradually consume your whip and destroy it. You won't be able to get the whip out again. The combined item is not tradeable.
Special attack
Edit
The special attack for the abyssal tentacle consumes 50% of the special attack bar and it will bind an opponent for 5 seconds as well as increasing your chance of poisoning them.
Degradation
Edit
Due to the volatile nature of the kraken tentacle, the abyssal tentacle degrades as it is used. Each hit costs 168.86. After 10,000 hits with the weapon (400 minutes of continuous combat), it will degrade and consume the abyssal whip, leaving the player with the kraken tentacle. If you have a full inventory, the kraken tentacle will be left equipped, useless and invisible.
As of an update on 31 March 2016, players can combine the charges of two abyssal tentacles. One abyssal tentacle is worth of 10,000 charges, the maximum being 20,000. This action will destroy the other abyssal tentacle (costs 1 kraken tentacle).
Combining abyssal tentacles is recommended if a player has two with a low amount of charges, for example 1,000 charges and you know it is not enough for a boss trip. You would have to create a new abyssal tentacle which would last the whole trip. Now you can combine these two low-charged whips (in this case, the new tentacle whip will have 2,000 charges which could be enough for a trip).
Bonuses
Hover over image for type

A player wielding the abyssal tentacle.
 Attack bonus
+0
+90
+0
+0
+0
 Defence bonus
+0
+0
+0
+0
+0
Other bonuses
Slot

list

+86
0
0%
+0
Combat styles
Edit
Ad blocker interference detected!
Wikia is a free-to-use site that makes money from advertising. We have a modified experience for viewers using ad blockers

Wikia is not accessible if you've made further modifications. Remove the custom ad blocker rule(s) and the page will load as expected.