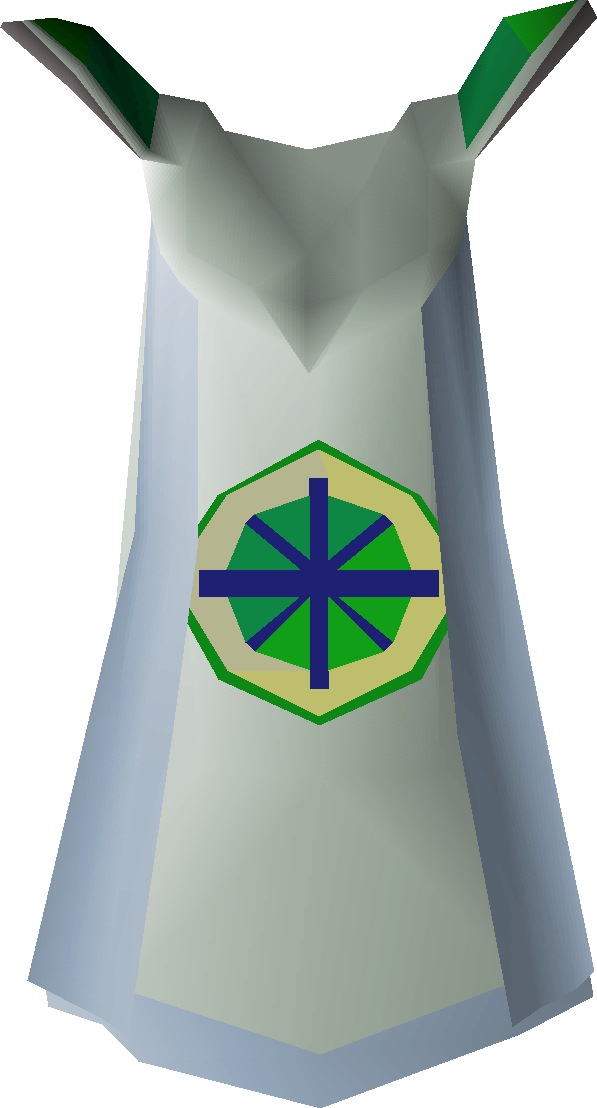 The Achievement diary cape can be obtained by players who have completed all Achievement Diaries. It is obtained along with the Achievement diary hood, and can be bought from Twiggy O'Korn in Draynor Village for 99,000 coins. It should be noted that this is one of the hardest items in RuneScape to obtain due to its high requirements.
The cape possesses five teleport charges per day to any Achievement Diary master, including Twiggy O'Korn.
As of an update on 6 May 2016, players can now trim and untrim their achievement diary cape at will.
Bonuses
Hover over image for type
 Attack bonus
+0
+0
+0
+0
+0
 Defence bonus
+9
+9
+9
+9
+9
Other bonuses
Slot

list

+0
0
0%
+4
Requirements
Edit
Capes

 Agility (Hood) •  Attack (Hood) •  Hitpoints (Hood) •  Construction (Hood) •  Cooking (Hood) •  Crafting (Hood) •  Defence (Hood) •  Farming (Hood) •  Firemaking (Hood) •  Fishing (Hood) •  Fletching (Hood) •  Herblore (Hood) •  Hunter (Hood) •  Magic (Hood) •  Mining (Hood) •  Prayer (Hood) •  Ranging (Hood) •  Runecrafting (Hood) •  Slayer (Hood) •  Smithing (Hood) •  Strength (Hood) •  Thieving (Hood) •  Woodcutting (Hood) •  Quest point (Hood) •  Achievement diary (Hood) •  Music (Hood) •  Max (Hood)

Cape sellers

 Cap'n Izzy No-Beard •  Ajjat •  Surgeon General Tafani •  Estate agent •  Head chef •  Master Crafter •  Harlan •  Martin the Master Gardener •  Ignatius Vulcan •  Master fisher •  Hickton •  Kaqemeex •  Hunting expert •  Robe Store owner •  Dwarf •  Brother Jered •  Armour salesman •  Aubury •  Duradel •  Thurgo •  Sloane •  Martin Thwait •  Woodsman tutor •  Wise Old Man •  Twiggy O'Korn •  Olaf the Bard •  Mac

Emote

Skill Cape