Ad blocker interference detected!
Wikia is a free-to-use site that makes money from advertising. We have a modified experience for viewers using ad blockers

Wikia is not accessible if you've made further modifications. Remove the custom ad blocker rule(s) and the page will load as expected.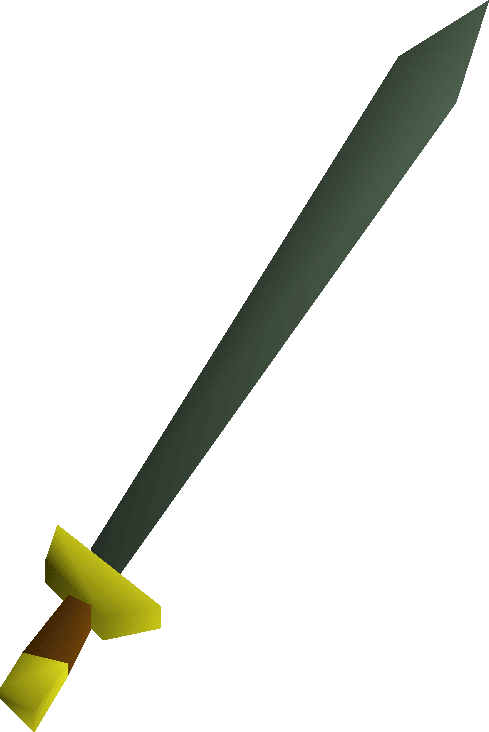 The adamant sword is the second strongest sword, after the Rune sword. As with all Adamant weapons, level 30 Attack is required to wield it.
Adamant swords can be created at level 74 smithing. One adamant bar is required to make the sword, and 62.5 smithing experience is rewarded per sword created. The adamant sword can be purchased at the Varrock Swordshop for 2,080 coins.
Bonuses
Hover over image for type

A player wielding an Adamant sword.
 Attack bonus
+23
+18
-2
+0
+0
 Defence bonus
+0
+2
+1
+0
+0
Other bonuses
Slot

list

+24
0
0%
+0
Standard

 Bronze •  Iron •  Steel •  Black •  White •  Mithril •  Adamant •  Rune

Others

 Training sword •  Wooden sword •  Leaf-bladed sword •  Toktz-xil-ak
Melee weapons

 Dagger •  Axe •  Mace •  Claws •  Sword •  Longsword •  Scimitar •  Spear •  Warhammer •  Battleaxe •  2h sword •  Halberd •  Hasta •  Pickaxe •  Cane

Ranged weapons/ammo

 Crossbow •  Bolts •  Arrows •  Brutal arrows •  Darts •  Javelins •  Thrownaxe •  Throwing knife

Armour

 Med helm •  Full helm (t) (g) (h) •  Square shield •  Kiteshield (t) (g) (h) •  Chainbody •  Platebody (t) (g) •  Plateskirt (t) (g) •  Platelegs (t) (g) •  Boots •  Gloves •  Defender

Other

 Arrowtips •  Javelin heads •  Broken axe •  Broken pickaxe •  Nails •  Dart tip