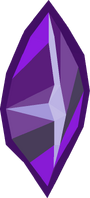 Ancient shards are obtained from monsters found within the Catacombs of Kourend (excluding ghosts). They are used on the altar in the centre of the catacombs for quick transportation to several areas (and are consumed on use):
Three can be used with a darklight to create an arclight, a degradeable variant of the darklight that provides stats superior to the abyssal tentacle when used against demons. Three shards provide 1,000 charges; up to a maximum of 10,000.
Dropping Monsters
Edit
All NPCs (excluding ghosts) in the Catacombs of Kourend drop the shard at the a rate of 1.5 in Y, where Y is 500 - NPC's hitpoints.
Prior to the 16 June 2016 update, ancient shards were lost upon death.