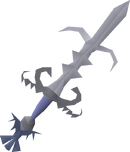 The Armadyl godsword is one of the four variants of the legendary Godsword that was fought over during the God Wars. Requiring 75 Attack to wield, it is created by attaching an Armadyl hilt to a completed godsword blade, which has no requirements to create and can be done by any player. Along with the Bandos godsword, the Saradomin godsword, and the Zamorak godsword, the Armadyl godsword carries the highest slash bonus and the second highest strength bonus of all melee weapons in the game.
Like all godswords, the Armadyl godsword has a special attack, The Judgment, which deals damage with a 37.5% (125% multiplied by the hidden 110% every godsword possesses, the calculation uses integer values after the multiplication of 1.1 the value gets rounded down and then multiplied by 1.25) higher maximum hit than a normal attack, using 50% of the special attack bar.
Players can attach an Armadyl godsword ornament kit, obtained from master clue scrolls, to cosmetically enhance the godsword, creating an Armadyl godsword (or). This only alters its appearance, and gives no stat enhancements. It also becomes untradeable, but it can be dismantled, returning the godsword and ornament kit.
The Judgment is capable of dealing a very large amount of damage; under ideal conditions, a player can potentially deal over 70 damage to a monster with the special attack, and an even higher maximum hit with the effects of a black mask or a Castle wars bracelet. This has made the Armadyl godsword very popular for both player killing and monster killing. In PvP scenarios the Armadyl godsword is most commonly used as a "knock-out" weapon, as the special is often capable of finishing an injured player in one large blow. In PvM situations its high hits are advantageous when fighting boss monsters such as General Graardor, especially when several players are competing to deal the most damage in order to secure a drop.
Bonuses
Hover over image for type
 Attack bonus
+0
+132
+80
+0
+0
 Defence bonus
+0
+0
+0
+0
+0
Other bonuses
Slot

list

+132
0
0%
+8
Combat styles
Edit
Standard

 Bronze •  Iron •  Steel •  Black •  White •  Mithril •  Adamant •  Rune •  Gilded •  Dragon

Other

 Shadow •  Katana •  Saradomin (blessed) •  Armadyl godsword (or) •
 Bandos godsword (or) •  Saradomin godsword (or) •  Zamorak godsword (or)
Godswords

 Armadyl (or) •  Bandos (or) •  Saradomin (or) •  Zamorak (or)

Armadyl armour
Bandos armour

 Chestplate •  Tassets •  Boots

Weapons

 Saradomin sword (blessed) •  Zamorakian spear (hasta) •  Staff of the dead (toxic)
 Armadyl crossbow •  Steam battlestaff (or)

Pets

 Kree'arra •  General Graardor •  Commander Zilyana •  K'ril Tsutsaroth

Other
Ad blocker interference detected!
Wikia is a free-to-use site that makes money from advertising. We have a modified experience for viewers using ad blockers

Wikia is not accessible if you've made further modifications. Remove the custom ad blocker rule(s) and the page will load as expected.