Ad blocker interference detected!
Wikia is a free-to-use site that makes money from advertising. We have a modified experience for viewers using ad blockers

Wikia is not accessible if you've made further modifications. Remove the custom ad blocker rule(s) and the page will load as expected.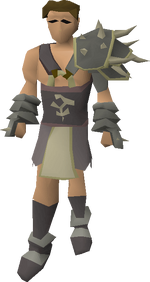 Bandos armour is a set of armour that requires 65 Defence to wear. It is dropped by General Graardor and his bodyguards in the God Wars Dungeon.
Its defence bonuses are between dragon and third age, and is also the best armour to give strength bonuses. Bandos does not break down unlike Barrows Gear.
Components and bonuses
Edit
Item
Attack bonuses
Defence bonuses
Other bonuses
Name
Image
Bandos chestplate
0
0
0
-15
-10
+98
+93
+105
-6
+133
+4
0
0
+1
Bandos tassets
0
0
0
-21
-7
+71
+63
+66
-4
+93
+2
0
0
+1
Bandos boots
0
0
0
-5
-3
+17
+18
+19
0
+15
0
0
0
+1
TOTAL
0
0
0
-41
-20
+186
+174
+190
-10
+241
+6
0
0
+3
Godswords

 Armadyl (or) •  Bandos (or) •  Saradomin (or) •  Zamorak (or)

Armadyl armour
Bandos armour

 Chestplate •  Tassets •  Boots

Weapons

 Saradomin sword (blessed) •  Zamorakian spear (hasta) •  Staff of the dead (toxic)
 Armadyl crossbow •  Steam battlestaff (or)

Pets

 Kree'arra •  General Graardor•  Commander Zilyana •  K'ril Tsutsaroth

Other
God books

 Book of balance (+5) •  Holy book (+5) •  Unholy book (+5) •  Book of law (+5) •  Book of darkness (+5) •  Book of war (+5)

Amulets

 Holy symbol (+8) •  Unholy symbol (+8) •  Amulet of power (+1) •  Necklace of anguish (+2) •  Amulet of torture (+2) •  Amulet of glory (+3) •  Salve amulet (e) (ei) (+3) •  Amulet of the damned (+3) •  Amulet of fury (+5) •  God stole (+10)

Robes

 Priest gown (+6) •  Zamorak robes (+6) •  Druid's robes (+8) •  Monk's robes (+11) •  Shade robes (+9) •  Vestment robes (Top & Bottom: +11, whole set: +32)

Capes

 Skillcape (trimmed) (+4) •  Fire cape (+2) •  Vestment cloak (+3) •  Ardougne cloak 1 (+2) •  Ardougne cloak 2 (+4) •  Ardougne cloak 3 (+5) •  Ardougne cloak 4 (+6) •  3rd age cloak (+5)

Weapons

 White equipment •  Crozier (+6) •  Maces •  Void knight mace (+6) •  Toktz-mej-tal (+5) •  Silver sickle (b) (+5) •  Wolfbane (+5) •  Godswords (+8) •  Saradomin sword (+2) •  Zamorakian spear (+2) •  Armadyl crossbow (+1)

Shields

 White equipment •  Broodoo shield (+5) •  Spirit shield (+1) •  Blessed spirit shield (+3) •  Arcane spirit shield (+3) •  Elysian spirit shield (+3) •  Spectral spirit shield (+3) •  Falador shield 1 (+1) •  Falador shield 2 (+2) •  Falador shield 3 (+4) •  Falador shield 4 (+5)

Armour

 Armadyl (+3) •  Bandos (+3) •  Helm of neitiznot (+3) •  White equipment •  Blessed d'hide (+4) •  Initiate armour (+14) •  Proselyte armour (+17) •  Mitre (+5) •  Verac's (+18) •  Elite void robes (+6)

Rings

 Explorer's rings (+1) •  Ring of the gods (+4) •  Ring of suffering (i) (+4) •  Ring of the gods (i) (+8)

(+) Prayer bonus