Barrows gloves
Discuss

1
7,941pages on
this wiki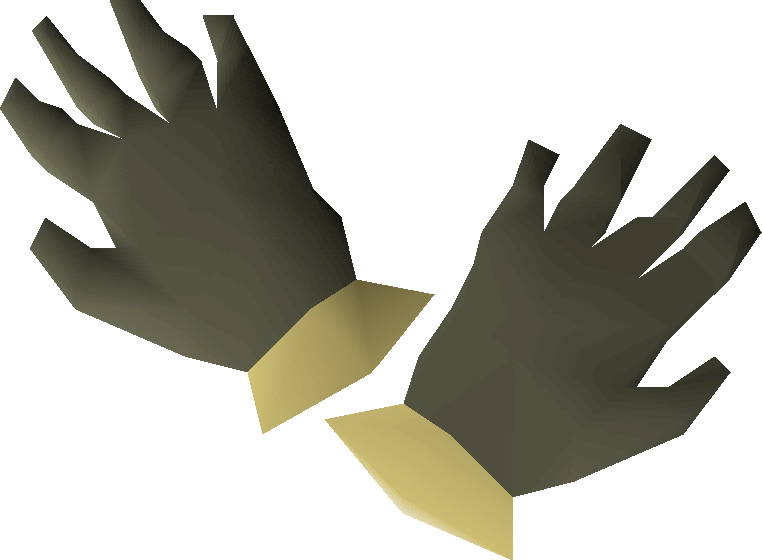 Barrows gloves, named Gloves in game, are the best pair of gloves that exist in Old School RuneScape. They can be purchased from the Culinaromancer's chest in the Lumbridge Castle cellar after completing the entire Recipe for Disaster quest. Lacking any defence requirement, these gloves could theoretically be worn with only 1 Defence but because of the Defence experience gained from completing the necessary quests, this is not possible. They provide a strength bonus of +12, significantly increasing the user's damage. Barrows gloves provide the best offensive statistics for any combat style including magic and ranged, having better stats than both black d'hide vambraces and infinity gloves.
As with all Recipe for Disaster gloves, in game they are simply named 'gloves' with no reference to the metal they portray.
Note: If you die, all unprotected metal gloves worn or in your inventory are NOT obtainable upon death and you will have to buy another from the Culinaromancer's chest.
Bonuses
Hover over image for type

A player wearing the Barrows Gloves
 Attack bonus
+12
+12
+12
+6
+12
 Defence bonus
+12
+12
+12
+6
+12
Other bonuses
Slot

+12
0
0%
0
 Basic •

 Bronze •

 Iron •

 Steel •
 Black •
 Mithril •

 Adamant •
 Rune •

 Dragon •
 Barrows