Ad blocker interference detected!
Wikia is a free-to-use site that makes money from advertising. We have a modified experience for viewers using ad blockers

Wikia is not accessible if you've made further modifications. Remove the custom ad blocker rule(s) and the page will load as expected.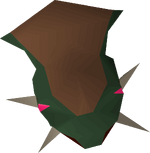 A basilisk head is a very rare drop from Basilisks, which requires 40 Slayer to kill. It can be mounted in player-owned houses in the Skill Hall with level 38 Construction. This method is a one-time use and the head cannot be reclaimed.
If a player wishes to have the basilisk head mounted, it must be taken to the taxidermist in Canifis. She will charge 4,000 coins and turn it into a stuffed basilisk head. They may then mount it in their player-owned house by using 2 teak planks with the stuffed head.
Dropping monsters
Edit
| Monster | Combat level | Quantity | Rarity |
| --- | --- | --- | --- |
| Basilisk | 61 | 1 | |
Fish

| | |
| --- | --- |
| Big fish | |
| Stuffed fish | |
| Mounted fish | |

Slayer

| | |
| --- | --- |
| Heads |  Crawling hand •  Cockatrice •  Basilisk •  Kurask •  Abyssal demon •  King Black Dragon •  Kalphite Queen |
| Stuffed heads |  Crawling hand •  Cockatrice •  Basilisk •  Kurask •  Abyssal demon •  King Black Dragon •  Kalphite Queen |
| Mounted heads |  Crawling hand •  Cockatrice •  Basilisk •  Kurask •  Abyssal demon •  King Black Dragon •  Kalphite Queen |