Ad blocker interference detected!
Wikia is a free-to-use site that makes money from advertising. We have a modified experience for viewers using ad blockers

Wikia is not accessible if you've made further modifications. Remove the custom ad blocker rule(s) and the page will load as expected.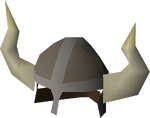 The berserker helm is a popular mid-levelled melee-based helmet popularly used by players seeking to increase their maximum hit. Players must have level 45 Defence and also have completed the quest The Fremennik Trials in order to wear it. It can be purchased from Skulgrimen's Battle Gear shop in Rellekka.
This helmet is popular with combat pures for being the lowest level head slot item to offer a Strength bonus. It has the same Strength bonus as the helm of neitiznot, which requires 55 Defence. The helm is roughly on par with the rune full helm. More specifically, the berserker helm is slightly better than the rune full helm in both stab and crush defence, but is slightly worse in slash defence.
Skulgrimen's Battle Gear will buy this helmet from a player for 42,000 coins, making it more beneficial to sell them back than to use high alchemy on them for money.
Bonuses
Hover over image for type

A player wearing a berserker helm.
 Attack bonus
+0
+0
+0
-5
-5
 Defence bonus
+31
+29
+33
+0
+30
Other bonuses
Slot

list

+3
0
0%
+0
Dropping monsters
Edit
Yak-hide armour
Rock-shell armour
Spined armour
Skeletal armour

Fremennik robes

Rings

 Warrior ring (imbued) •  Berserker ring (imbued) •  Seers ring (imbued) •  Archers ring (imbued)

Helms

 Fremennik •  Archer •  Berserker •  Farseer •  Warrior •  Helm of neitiznot

Fremennik cloaks

 Cyan •  Brown •  Blue •  Green •  Red •  Grey •  Yellow •  Teal •  Purple •  Pink •  Black

Fremennik shirts

Others