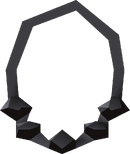 The Berserker necklace is an onyx necklace enchanted by the spell Lvl-6 Enchant. When worn, it increases the amount of damage the wearer does when wielding an obsidian melee weapon (Toktz-xil-ak, Tzhaar-ket-om,Tzhaar-ket-em, or Toktz-xil-ek) by 20%.
Bonuses
Hover over image for type

A player wearing a berserker necklace.
 Attack bonus
-10
-10
-10
+0
+0
 Defence bonus
-20
-20
-20
-20
-20
Other bonuses
Slot

list

+7
0
0%
+3
Standard necklaces

 Gold •  Sapphire •  Emerald •  Ruby •  Diamond  Dragonstone •  Onyx •  Zenyte

Enchanted necklaces

 Games •  Binding •  Digsite •  Phoenix •  Skills •  Berserker •  Anguish

Other necklaces
Ad blocker interference detected!
Wikia is a free-to-use site that makes money from advertising. We have a modified experience for viewers using ad blockers

Wikia is not accessible if you've made further modifications. Remove the custom ad blocker rule(s) and the page will load as expected.