Biohazard continues the storyline after the Plague City quest. The plot deepens as Elena finally gets a chance to process her plague samples. Buried under these samples lies a well-hidden secret.


Walkthrough
Edit
Getting started
Edit
Sneaking back
Edit
Items required: Pigeon cage, bird feed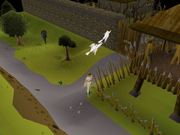 Infiltrating the Mourner Headquarters
Edit
Items required: Rotten apple (must be apple in quest, others from Yanille or Seers' Village do not work) Recommended: Skills necklace(6) (teleport to Fishing Guild to quickly return to Elena).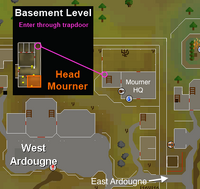 Go to the Mourners' Headquarters in the northeastern corner of the city.
Try to enter.
Head around the Headquarters to the northern area with the cauldron.
Pick up rotten apple a little to the west.
Squeeze through the fence into the backyard.
Use the rotten apple on the cauldron. DO NOT EAT IT!
Go back to the door and try to open it again.

A key will automatically be placed in your inventory.
Getting the touch paper
Edit
Items required: Falador Teleport or amulet of glory (optional)
Bank the 4 samples Elena gives you. Teleporting with samples will break them!
Teleport to Draynor Village/Falador.
Withdraw the samples!
Go to the Chemist in southwestern Rimmington. (Use Rimmington Home Teleport if you can)
Speak to the Chemist. Avoid all chat options that state you have a plague sample!
He will give you the touch paper.
Foresight
Edit
Items required: Liquid honey, ethenea, sulphuric broline, and the plague sample.
So far, so good
Edit
Items required: 10 Coins or a priest gown top and bottom, the plague sample and touch paper.
Items required: The plague sample, touch paper, a priest gown, and an Ardougne teleport (51+ Magic suggested).
Congratulations! Quest complete!
Required for completing
Edit
Completion of Biohazard is required for the following: