Ad blocker interference detected!
Wikia is a free-to-use site that makes money from advertising. We have a modified experience for viewers using ad blockers

Wikia is not accessible if you've made further modifications. Remove the custom ad blocker rule(s) and the page will load as expected.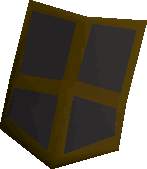 A black kiteshield is the fourth strongest kiteshield. It is dropped by Ice Giants and sold in Keldagrim. It has roughly the same bonuses as a white kiteshield.
The black kiteshield can be found in trimmed and heraldic forms from treasure trails.
As with all Black items, it can not be made with the Smithing skill.
Bonuses
Hover over image for type

A player wearing black armour.
 Attack bonus
+0
+0
+0
-8
-2
 Defence bonus
+17
+19
+18
-1
+18
Other bonuses
Slot

list

+0
0
0%
+0
Heraldic black kiteshields
Edit
The Heraldic black kiteshields can be gained from level 1 treasure trails but can be traded in the free worlds. There are five types of heraldic black kiteshields, designated h1 to h5 and they cannot be made through the Smithing skill.
Trimmed black kiteshields
Edit
A Black Kiteshield (g) and a Black Kiteshield (t) can both be obatined from Level 1 Treasure trails. They have the same stats as a normal black kiteshield and only have cosmetic differences. They cannot be made through the Smithing skill.
Dropping Monsters
Edit

Bronze •

Iron •

Steel •
Black •

White •

Mithril •
Adamant •

Rune
Weapons

 Dagger •  Axe •  Mace •  Claws •  Sword •  Longsword •  Scimitar
 Spear •  Warhammer •  Battleaxe •  Two-hander •  Halberd •  Pickaxe •  Cane

Armour

 Medium helm •  Full helm (t) (g) •  Square shield •  Kiteshield (t) (g)
 Chainbody •  Platebody (t) (g) •  Plateskirt (t) (g) •  Platelegs (t) (g) •  Boots
 Gloves •  Defender

Black heraldic armour

| | |
| --- | --- |
| Type 1 | |
| Type 2 | |
| Type 3 | |
| Type 4 | |
| Type 5 | |

Ranged

Other