Ad blocker interference detected!
Wikia is a free-to-use site that makes money from advertising. We have a modified experience for viewers using ad blockers

Wikia is not accessible if you've made further modifications. Remove the custom ad blocker rule(s) and the page will load as expected.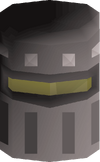 The blacksmith's helm is a reward from level 4 Treasure Trails. It resembles the protective headgear of a modern day metalworker.
It was released with the second clue scroll expansion in late 2016.
Bonuses
Hover over image for type
 Attack bonus
+0
+0
+0
-6
-2
 Defence bonus
+6
+7
+5
-1
+6
Other bonuses
Slot

list

+0
0
0%
+0
Melee

| | |
| --- | --- |
| God | |
| Trimmed |  Bronze (t) •  Bronze (g) •  Iron (t) •  Iron (g) •  Steel (t) •  Steel (g) •  Black (t) •  Black (g) •  Mithril (t) •  Mithril (g) •  Adamant (t) •  Adamant (g) •  Rune (t) •  Rune (g) •  Gilded |
| Other | |

Magic

Ranged

| | |
| --- | --- |
| God | |
| Trimmed |  Studded (t) • Studded (g) •  Green d'hide (t) •  Green d'hide (g) •  Blue d'hide (t) •  Blue d'hide (g) •  Red d'hide (t) •  Red d'hide (g) •  Black d'hide (t) •  Black d'hide (g) |
| Other | |

Prayer

 Guthix •  Saradomin •  Zamorak •  Armadyl •  Bandos •  Ancient •  Holy sandals •  Holy wraps  Monk's robes (g)

Weapons

| | |
| --- | --- |
| Melee |  Black pickaxe •  Nunchaku •  Zombie head •  Gilded scimitar •  Gilded 2h sword •  Gilded spear •  Gilded hasta •  Katana •  3rd age longsword •  3rd age axe •  3rd age pickaxe |
| Magic |  3rd age wand |
| Ranged |  Willow composite bow •  Yew composite bow •  Magic composite bow •  3rd age bow |
| Canes | |

Kourend house items

| | |
| --- | --- |
| House banners |  Arceuus •  Hosidius•  Lovakengj •  Piscarilius •  Shayzien |
| House scarves |  Arceuus •  Hosidius•  Lovakengj •  Piscarilius •  Shayzien |
| House hoods |  Arceuus •  Hosidius•  Lovakengj •  Piscarilius •  Shayzien |

Headwear

 Beanie •  Golden chef's hat •  Highwayman mask •  Pirate's hat •  Pith helmet •  Robin hood hat •  Deerstalker •  Top hat •  Monocle •  Crier hat •  Leprechaun hat •  Black leprechaun hat •  Cyclops head •  Afro •  Big pirate hat •  Fancy tiara •  Sagacious spectacles •  Blacksmith's helm •  Bucket helm •  Bucket helm (g) •  Half moon spectacles •  Bowl wig •  Left eye patch

Animal masks

 Imp •  Goblin •  Cat •  Penguin •  Black unicorn •  White unicorn

Dragon masks

 Green •  Blue •  Red •  Black •  Bronze •  Iron •  Steel •  Mithril •  Lava

Demon masks

Berets

Boaters
Cavaliers
Headbands

Bob the Cat shirts
Capes

 Team cape i •  Team cape x •  Team cape zero •  Explorer backpack •  Obsidian cape (r) •  3rd age cloak

Elegant clothing

| | |
| --- | --- |
| Black/White | |
| Blue | |
| Green | |
| Purple | |
| Red | |
| Gold | |
| Pink | |

Ornament kits

| | |
| --- | --- |
| Dragon equipment |  Dragon full helm •  Dragon chainbody •  Dragon platelegs/skirt •  Dragon sq shield •  Dragon scimitar •  Dragon defender |
| Godswords | |
| Other |  Light infinity •  Dark infinity •  Amulet of fury •  Occult necklace •  Amulet of torture |

Teleport scrolls

 Digsite •  Elf camp •  Feldip hills •  Lumberyard •  Lunar isle •  Mort'ton •  Mos le'harmless •  Nardah •  Pest control •  Piscatoris •  Tai bwo wannai

God blessing
Gnomish firelighters

Miscellaneous

| | |
| --- | --- |
| Unlocks |  Large spade •  Clueless scroll •  Uri Transform •  Heavy casket |
| Outfits |  Musketeer outfit •  Royal outfit •  Dark tuxedo outfit •  Light tuxedo outfit •  Mummy outfit •  Ankou outfit |
| Consumables | |
| Other |  Golden apron •  Wooden shield (g) •  Crier coat •  Crier bell •  Cabbage round shield •  Briefcase •  Ring of nature •  Ring of coins •  Bloodhound •  Ale of the gods |