A Border Guard is an NPC which guards the gate between Lumbridge and Al Kharid making sure players pay the 10gp toll to pass (or otherwise letting them pass for free after completing the Prince Ali Rescue quest.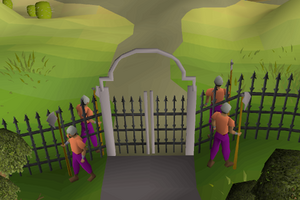 Ad blocker interference detected!
Wikia is a free-to-use site that makes money from advertising. We have a modified experience for viewers using ad blockers

Wikia is not accessible if you've made further modifications. Remove the custom ad blocker rule(s) and the page will load as expected.