Ornament Directionals Weathervane pillar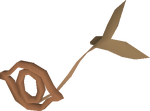 Broken weathervane parts are a quest item used in One Small Favour. They are obtained by climbing onto the roof of Phantuwti Fanstuwi Farsight's house in Seers' Village and examining the weather vane there.
Each part must be repaired using a different metal bar - the ornament on top must be repaired with a bronze bar, the directionals need an iron bar, and the weathervane pillar requires a steel bar to repair.
Once repaired, the parts can be returned to their position on top of the house in order to continue with the quest.
Ad blocker interference detected!
Wikia is a free-to-use site that makes money from advertising. We have a modified experience for viewers using ad blockers

Wikia is not accessible if you've made further modifications. Remove the custom ad blocker rule(s) and the page will load as expected.