Ad blocker interference detected!
Wikia is a free-to-use site that makes money from advertising. We have a modified experience for viewers using ad blockers

Wikia is not accessible if you've made further modifications. Remove the custom ad blocker rule(s) and the page will load as expected.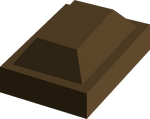 A bronze bar is a bar of refined bronze. It can be created through the Smithing skill at level 1 by using a copper ore and a tin ore on a furnace, granting 6.25 Smithing experience. A bronze bar can be smithed on an anvil through the Smithing skill to create bronze weapons and armour. A list of bronze items that can be smithed from bronze bars and the Smithing levels required can be found here. When smithed, each bar gives 12.5 experience, with a maximum of 62.5 experience given for the bronze platebody.
Bronze bars can be purchased from the Shantay Pass Shop located at the Shantay Pass south of Al-kharid for 8gp each.
Dropping monsters
Edit
Smithing table
Edit
Normal bars

 Bronze • Iron •  Silver •  Steel •  Gold •  Mithril •  Adamantite •  Runite

Elemental bars

Other bars
Melee weapons

 Dagger •  Axe •  Mace •  Claws •  Sword •  Longsword •  Scimitar •  Spear •  Warhammer •  Battleaxe •  Two-hander •  Halberd •  Hasta •  Pickaxe

Ranged weapons/ammo

 Crossbow •  Bolts •  Arrows •  Brutal arrows •  Throwing axe •  Throwing knife •  Javelin •  Darts

Armour

 Medium helm •  Full helm (t) (g) •  Chainbody •  Platebody (t) (g) •  Gloves •  Square shield •  Kiteshield (t) (g) •  Platelegs (t) (g) •  Plateskirt (t) (g) •  Boots •  Defender

Other

 Bar •  Copper ore •  Tin ore •  Wire •  Nails •  Javelin heads •  Arrowtips •  Dart tips •  Unfinished bolts •  Broken axe •  Broken pickaxe