Buckets of slime are filled with a slimy green glowing liquid, found in an underground basement near Port Phasmatys. Necrovarus uses this liquid to control the ghosts of Port Phasmatys, but he is thwarted by the player during Ghosts Ahoy. It apparently has hidden magical properties regarding ghosts and the undead, which is the reason Necrovarus can control the ghosts of Phasmatys and also why he, along with his disciples, are still able to interact with living beings, even after many years of death.
They are used along with bonemeal to worship the Ectofuntus for training Prayer. If bones are ground and used with ectoplasm to worship the Ectofuntus, four times the normal amount of experience for the bones is given; which makes it a useful item that greatly impacts and cheapens training Prayer.
Obtaining Ectoplasm
Edit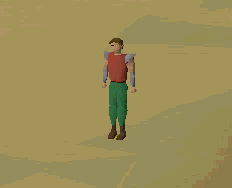 Ectoplasm can be obtained by using a empty bucket on the pool of slime underneath the Ectofuntus.
It is also sold by the Trader Crewmembers south of the bank in Catherby or in Port Phasmatys. They stock 10, and sell for 2gp ea. Worldhopping and banking here may be faster than using the pool of slime.
The ghosts that inhabit Port Phasmatys are actually made of ectoplasm, as are mythical spirits.
Misc.

 Bucket •  Bucket of water •  Bucket of milk •  Apple mush •  Chocolatey milk •  Compost •  Supercompost •  Bucket of sand •  Bucket of sap •  Bucket of slime •  Bucket of wax •  Bailing bucket •  Bucket of sandworms

Quest items

 Full bucket •  Dwarf brew •  Hangover cure •  Bucket of rubble •  Magic glue •  Enchanted milk •  Milky mixture •  Ugthanki dung •  Unsanitary swill •  Weird gloop •  Murky water •  Blessed water •  Bucket of water (Rum Deal) •  Empty bucket •  1/5ths full bucket •  2/5ths full bucket •  3/5ths full bucket •  4/5ths full bucket •  Full bucket (Fremennik Trials) •  Frozen bucket •  Bucket •  Bucket of water
Ad blocker interference detected!
Wikia is a free-to-use site that makes money from advertising. We have a modified experience for viewers using ad blockers

Wikia is not accessible if you've made further modifications. Remove the custom ad blocker rule(s) and the page will load as expected.