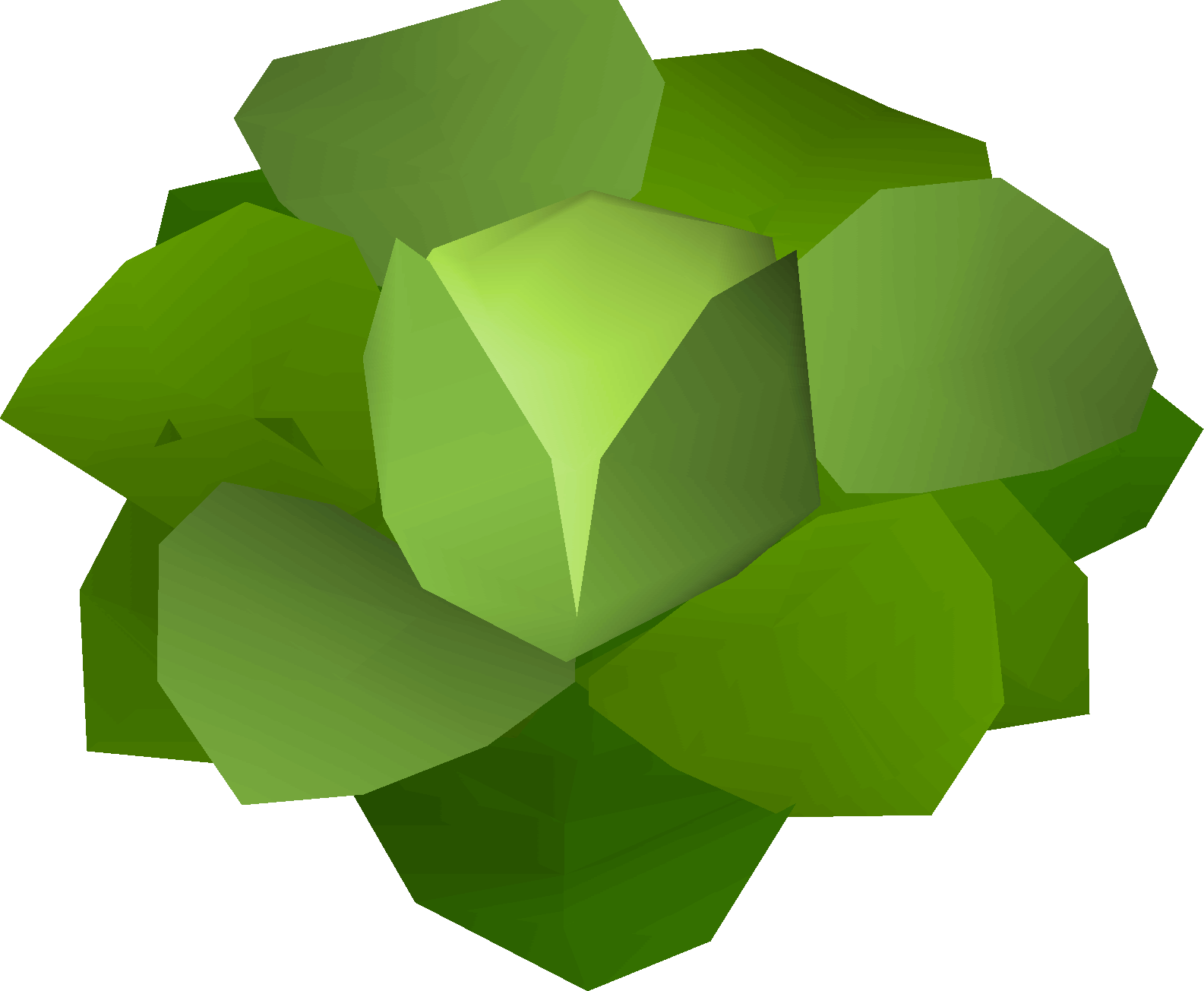 A cabbage is a consumable item, which can be obtained either by growing it on a Farming patch or by picking it in various areas around Gielinor. Eating a cabbage restores 1 Hitpoint.
Cabbage is also an ingredient in a garden pie.
A cabbage (not picked from Draynor Manor) is used in the Black Knight's Fortress quest.
If cabbages are brought to Lunderwin at the Zanaris marketplace, they can be sold for 100 coins each (they must be unnoted).
Cabbage patches
Edit
Draynor cabbages
Edit
Draynor cabbages can only be found at the western patch inside the grounds of Draynor Manor. These are slightly darker in appearance and cannot be sold on the Grand Exchange, but are tradeable and otherwise identical to normal cabbages.
When consumed, the player receives a message saying: "You eat the cabbage. It seems to taste nicer than normal." and their Defence level will be temporarily boosted by either 1 (if the player's level is between 1 and 49) or 2 (if it is 50+). This makes them one of the only consumable items to boost defence in free-to-play worlds (the other being the kebabs, although there is only a 4% chance of a boost).
A player is able to farm a cabbage at level 7 Farming. You gain 10 experience for planting the seed and 11.5 experience for harvesting the cabbage. It takes 30–35 minutes for the cabbage to fully grow. You can also have a farmer watch your cabbages for 1 sack of onions.
When you try to exchange cabbages into noted cabbages at the Falador farming patches, the tool leprechaun complains about cabbages and says to take them away.
During the Black Knights' Fortress quest, if the player uses a Draynor cabbage on the witch's potion, a message appears, saying: "This is the wrong sort of cabbage", to which the player adds: "I'm not supposed to be helping the witch you know...".
Pies

 Redberry pie •  Meat pie •  Mud pie •  Apple pie •  Garden pie •  Fish pie •  Botanical pie •  Admiral pie •  Wild pie •  Summer pie

Raw pies

 Raw admiral pie •  Raw fish pie •  Raw garden pie •  Raw mud pie •  Raw summer pie •  Raw wild pie •  Uncooked apple pie •  Uncooked berry pie •  Uncooked botanical pie •  Uncooked meat pie

Ingredients

 Pastry dough •  Pie shell •  Redberries •  Cooked meat •  Compost •  Cooking apples •  Tomato •  Onion •  Cabbage •  Trout •  Cod •  Raw potato •  Salmon •  Tuna •  Raw bear meat •  Raw chompy •  Raw rabbit •  Strawberry •  Watermelon •  Golovanova fruit top

Part pies

 Part admiral pie 1 •  Part admiral pie 2 •  Part fish pie 1 •  Part fish pie 2 •  Part garden pie 1 •  Part garden pie 2 •  Part mud pie 1 •  Part mud pie 2 •  Part summer pie 1 •  Part summer pie 2 •  Part wild pie 1 •  Part wild pie 2
Ad blocker interference detected!
Wikia is a free-to-use site that makes money from advertising. We have a modified experience for viewers using ad blockers

Wikia is not accessible if you've made further modifications. Remove the custom ad blocker rule(s) and the page will load as expected.