Ad blocker interference detected!
Wikia is a free-to-use site that makes money from advertising. We have a modified experience for viewers using ad blockers

Wikia is not accessible if you've made further modifications. Remove the custom ad blocker rule(s) and the page will load as expected.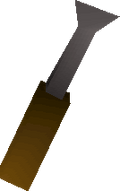 A Chisel is a tool mainly used in the Crafting skill to cut and shape hard non-metals, mainly gems and limestone. Chisels are also used in Fletching to cut gems into bolt tips. Chisels are sold for the price of 1 coin at all general stores except the ones in East and West Ardougne. There is a free chisel spawn in the Crafting Guild. At 15 Construction, members can make a Tool Store 1 for the workshop room of their house; this tool store provides an unlimited supply of chisels.
General

 Pickaxe •  Axe •  Hammer •  Chisel •  Knife •  Tinderbox •  Shears •  Pestle and mortar •  Saw (crystal) •  Machete (opal) (jade) (red topaz)

Fishing

 Fishing rod •  Small fishing net •  Big fishing net •  Fly fishing rod •  Harpoon •  Lobster pot •  Barbarian rod

Crafting

 Needle •  Glassblowing pipe •  Amulet mould •  Bracelet mould •  Necklace mould •  Ring mould •  Tiara mould •  Ammo mould •  Bolt mould •  Holy mould •  Unholy mould •  Sickle mould

Hunter

 Noose wand •  Butterfly net (Magic) •  Bird snare • Rabbit snare •  Teasing stick •  Box trap