Christmas cracker
Discuss

3
7,940pages on
this wiki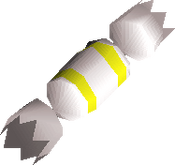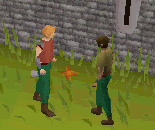 Christmas crackers
are tradeable holiday items that were obtained by using the clues given by Jagex through various means such as the forums, Twitter, etc. and giving a specific set of items to an
NPC
. This event started on 1 September 2013 and lasted until 7 September, with one clue being shown every day. Players could only receive a
Christmas cracker
for the clue given that day. In other words, if a player participated for all 7 days, they would have gotten 7 crackers. If a player tried to do a clue from a previous day, the specified NPC would not accept the items.
Also note that once all these items have been distributed you will be able to obtain them again during the corresponding holiday period (for example, you will be able to get Christmas crackers every Christmas).
Crackers can be pulled by using them on another player. It's important to note that the owner of the cracker is not guaranteed to be the one to obtain the items.
Upon opening these crackers, one receives one of the 6 different partyhats:
Along with the partyhat, a secondary item is obtained. This includes:
Easter

 Easter egg •  Bunny ears •  Rubber chicken •  Easter ring • Chicken outfit •  Easter basket

Hallowe'en

 Pumpkin •  Halloween mask (Green • Blue • Red) •  Scythe •  Zombie head •  Jack lantern mask •  Skeleton outfit •  Black h'ween mask •  Grim reaper hood

Christmas

 Christmas cracker • Partyhats (Yellow • Green • Red • White • Purple • Blue) •  Santa hat •  Yo-yo • Hats and scarves • Marionettes (Green • Blue • Red)•  Wintumber tree •  Reindeer hat •  Black partyhat •  Rainbow partyhat •  Santa outfit •  Antisanta outfit

Other

 Disk of returning •  Half full wine jug •  War ship •  Birthday present •  Cow mask •  Druidic wreath •  Event rpg