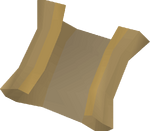 A clue scroll (master) is the highest tier of clue scroll.
Players can obtain a master clue scroll from the following methods:
By bringing one each of the easy, medium, hard and elite clue scrolls to Watson at his house, which is located south of the estate agent at the Hosidius House.
As a potential reward from completing any easy, medium, hard or elite treasure trails, with the chances of obtaining them being 1/50, 1/30, 1/15, and 1/5 respectively.
Like elite and hard clue scrolls, master clue scrolls also have combat encounters. They include a Brassican Mage, Double agent or three Ancient Wizards (in multi-combat areas). As their tier suggests, master clues require a myriad of usually high-levelled items, requirements and quests in order to complete them.
It should be noted, that if a player dies in the Wilderness with a clue scroll in over 20 wilderness it WILL DISAPPEAR whether it's a PvP death or not, unless it is an item kept on death, or if that player has a clue box. Players will find that the clue scroll will be gone upon returning to their loot otherwise. However, when dying in the Wilderness with a clue box, provided the player returns quick enough, will be able to loot their dropped clue scroll. In lower wilderness however (lvl 20 or lower) in PvP death, the unprotected clue will stay on the ground for up to 1 hour. The same goes for reward caskets. If you die in lower wilderness due to a monster you will always keep the clue whether protected or not. 
Master clue scrolls can be between 5 and 8 steps long.
Types of clues
Edit
Please note that it is possible to receive the same clue more than once.
Requirements
Edit
Skill requirements
Edit
Quest requirements
Edit
Item requirements
Edit
| Item | Requirements |
| --- | --- |
| Rune platebody | 40 Defence and completion of Dragon Slayer |
| Abyssal whip | 70  Attack |
| Amulet of the damned | Can be bought, acquired through the Shades of Mort'ton minigame |
| Arclight | 75  Attack, completion of Shadow of the Storm (to get Darklight) |
| Armadyl helmet | 70  Ranged, 70  Defence |
| Bandos boots | 65  Defence |
| Bandos godsword | 75  Attack |
| Barrelchest anchor | 60  Attack, 40  Strength, completion of The Great Brain Robbery |
| Barrows gloves | Completion of Recipe for Disaster |
| Brine sabre | 40  Attack, partial completion of Olaf's Quest (Ironmen only) |
| Cooking gauntlets | Completion of Family Crest |
| Crystal bow | 70  Ranged, 50  Agility, completion of Roving Elves |
| Dragon chainbody | 60  Defence |
| Dragon defender | 60  Defence, access to Warriors' Guild |
| Dragon scimitar | 60  Attack, completion of Monkey Madness |
| Dragon square shield | 60 Defence, completion of Legends' Quest |
| Fire cape | Defeat TzTok-Jad in the TzHaar Fight Cave |
| Greenman's ale (m) | Can be bought, made with 29  Cooking through brewing |
| Iban's staff | 50  Attack, 50  Magic, completion of Underground Pass |
| Infernal axe | 61  Woodcutting, 85  Firemaking |
| Mark of grace | 10  Agility |
| Rod of ivandis | Completion of In Aid of the Myreque |
| Zamorak godsword | 75  Attack |
| Full white armour | 10  Defence, completion of Wanted! |
| Full lumberjack outfit | 44  Woodcutting |
| Full angler's outfit | 34  Fishing |
| Full graceful outfit | 10  Agility |
| Full prospector outfit | 180 golden nuggets |
| Fighter torso | 40  Defence, Barbarian Assault |
| Shadow sword | Completion of The General's Shadow |
Rewards from master clues
Edit
As well as unique treasure trails rewards, players may also receive a variety of items such as weapons, and food items such as noted manta rays.
Ad blocker interference detected!
Wikia is a free-to-use site that makes money from advertising. We have a modified experience for viewers using ad blockers

Wikia is not accessible if you've made further modifications. Remove the custom ad blocker rule(s) and the page will load as expected.