Ad blocker interference detected!
Wikia is a free-to-use site that makes money from advertising. We have a modified experience for viewers using ad blockers

Wikia is not accessible if you've made further modifications. Remove the custom ad blocker rule(s) and the page will load as expected.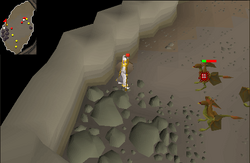 Cockatrice are slayer monsters that require level 25 Slayer to kill. A mirror shield is necessary when fighting these monsters or else your combat stats will be reduced every hit, even while safe-spotting. Players without 20 Defence can't be assigned these to kill as a slayer task.
It's worthy to note that their strength lies purely in their piercing gaze ability. With a mirror shield equipped, do not expect much of a fight. As such, not a lot of resources are necessary to do this task/hunt this monster. They are commonly killed because they have a relatively high drop rate on medium clue scrolls. Also their frequent limpwurt root drops are commonly sought after.
Locations
Edit
100% drop
Edit
Weapons/Armour
Edit
Rare drop table
In addition to the drops above, this monster also has access to the rare drop table.
Slayer Tower

 Crawling Hand (Superior) •  Banshee (Superior) •  Infernal Mage (Superior) •  Bloodveld (Superior) •  Aberrant spectre (Superior) •  Gargoyle (Superior) •  Nechryael (Superior) •  Abyssal demon (Superior) (Boss)

Fremennik Slayer Dungeon

 Cave crawler (Superior) •  Rockslug (Superior) •  Cockatrice •  Pyrefiend (Superior) •  Basilisk •  Jelly (Superior) •  Turoth •  Kurask (Superior)

Lumbridge Swamp Caves

 Cave bug •  Cave crawler (Superior) •  Cave slime •  Wall beast

God Wars Dungeon (Wilderness)

 Pyrefiend (Superior) •  Bloodveld •  Spiritual ranger •  Spiritual warrior •  Spiritual mage

Stronghold Slayer Cave

 Bloodveld •  Aberrant spectre (Superior) •  Gargoyle (Superior) •  Nechryael (Superior) •  Abyssal demon (Superior) (Boss) •  Cave kraken (Boss) •  Smoke devil (Superior) (Boss)

Catacombs of Kourend

 Deviant spectre (Superior) •  Mutated Bloodveld (Superior) •  Greater Nechryael •  Abyssal demon (Superior) •  Dust devil (Superior) •  Warped Jelly •  Twisted Banshee •  Dark beast (Superior)

Others

 Desert Lizard •  Mogre •  Harpie Bug Swarm •  Killerwatt •  Molanisk •  Terror dog •  Sea snake (Young) (Hatchling) •  Brine rat •  Fever spider •  Mutated zygomite •  Cave horror (Superior) •  Dust devil (Superior) •  Skeletal Wyvern •  Dark beast (Superior) •  Cerberus