Ad blocker interference detected!
Wikia is a free-to-use site that makes money from advertising. We have a modified experience for viewers using ad blockers

Wikia is not accessible if you've made further modifications. Remove the custom ad blocker rule(s) and the page will load as expected.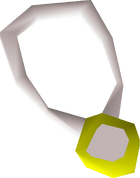 A diamond amulet is an Amulet created by using a Gold bar, a Diamond, and an Amulet mould on a Furnace, then using a ball of wool on it. It is the fourth highest level amulet that can be created. This requires a Crafting level of 70 and provides 100 Crafting experience when made.
It can be turned into an amulet of power with Lvl-4 Enchant. 
A helpful way for ironmen to obtain one without level 70 Crafting is by looting the Ham store room. 
Bonuses
Hover over image for type
 Attack bonus
+0
+0
+0
+0
+0
 Defence bonus
+0
+0
+0
+0
+0
Other bonuses
Slot

list

+0
0
0%
+0
Standard

| | |
| --- | --- |
| Unstrung |  Gold •  Sapphire •  Emerald •  Ruby •  Diamond •  Dragonstone •  Onyx •  Zenyte |
| Strung |  Gold •  Sapphire •  Emerald •  Pre-nature •  Ruby •  Diamond •  Dragonstone •  Onyx •  Zenyte |
| Enchanted |  Magic (t) •  Defence •  Nature •  Strength (t) •  Power •  Glory (t) •  Fury (or) •  Torture (or) |

Translation

 Camulet •  Catspeak (e) •  Ghostspeak •  Monkeyspeak (unstrung)

Others

 Accuracy •  Eternal glory •  Crone-made •  Cat training medal •  Glarial's •  Gnome •  Lunar •  Salve (e) (i) (ei) •  3rd age •  Yin Yang •  Amulet of the damned