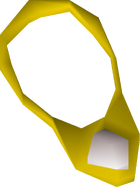 Diamond necklaces are necklaces that players can make by using a gold bar on a furnace with a diamond and a necklace mould in their inventory. It requires 56 Crafting to create, and gives 90 Crafting experience.
A diamond necklace can be enchanted into a Phoenix necklace by using the Lvl-4 Enchant spell. This requires level 57 Magic, one cosmic rune and ten earth runes.
Bonuses
Hover over image for type
 Attack bonus
+0
+0
+0
+0
+0
 Defence bonus
+0
+0
+0
+0
+0
Other bonuses
Slot

list

+0
0
0%
+0
Standard necklaces

 Gold •  Sapphire •  Emerald •  Ruby •  Diamond  Dragonstone •  Onyx •  Zenyte

Enchanted necklaces

 Games •  Binding •  Digsite •  Phoenix •  Skills •  Berserker •  Anguish

Other necklaces
Ad blocker interference detected!
Wikia is a free-to-use site that makes money from advertising. We have a modified experience for viewers using ad blockers

Wikia is not accessible if you've made further modifications. Remove the custom ad blocker rule(s) and the page will load as expected.