The disk of returning is an item obtained by beginning a midsummer ritual during midsummer events.
Activating it requires the player to be inside the Dwarven Mine, and when activated the player teleports into the Blackhole, where Thordur resides. To leave, simply activate the disk again.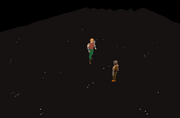 Attempting to drop it will result in a confirmation message "Yes, something cool might happen." However when dropped it will simply say "That was disappointing.", indicating nothing will happen when dropped. Occasionally when dropped the chatbox messages states "Something cool happens." and the player performs the dance emote. These are references towards the original date in the which they were created, where players could visit the blackhole and use their disk of returning to go out, other players would tell players that "something interesting would happen" and they couldn't get out of the blackhole resulting in many players getting trapped.
Note: you can still get out of the main blackhole where Thordur resides even if you do not have the Disk of returning in your inventory.
During the summer of 2013, it was obtained by killing the high priest in the Goblin Invasion event located in the Varrock castle courtyard.
Easter

 Easter egg •  Bunny ears •  Rubber chicken •  Easter ring • Chicken outfit •  Easter basket •  Bunny feet •  Bunny outfit •  Easter egg helm

Hallowe'en

 Pumpkin •  Halloween mask (Green • Blue • Red) •  Scythe •  Zombie head •  Jack lantern mask •  Skeleton outfit •  Black h'ween mask •  Grim reaper hood •  Anti-panties •  Gravedigger outfit •  Banshee outfit •  Hunting knife

Christmas

 Christmas cracker • Partyhats (Yellow • Green • Red • White • Purple • Blue) •  Santa hat •  Yo-yo • Hats and scarves • Marionettes (Green • Blue • Red)•  Wintumber tree •  Reindeer hat •  Black partyhat •  Rainbow partyhat •  Santa outfit •  Antisanta outfit •  Black santa hat •  Inverted santa hat •  Snow globe •  Sack of presents •  Giant present

Birthday

 War ship •  Cow outfit •  Gnome child hat •  4th birthday hat •  Birthday balloons

Midsummer

 Disk of returning •  Half full wine jug •  Druidic wreath •  Mask of balance •  Hornwood helm

Other

 Cabbage cape •  Cruciferous codex •  Clue hunter outfit •  Tiger toy •  Lion toy •  Snow leopard toy •  Amur leopard toy
Ad blocker interference detected!
Wikia is a free-to-use site that makes money from advertising. We have a modified experience for viewers using ad blockers

Wikia is not accessible if you've made further modifications. Remove the custom ad blocker rule(s) and the page will load as expected.