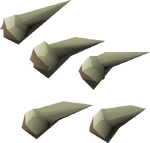 Dragon arrowtips are arrowheads which are possible loot from dragon implings and are used to create dragon arrows at level 90 Fletching. Fletching a set of 15 dragon arrows yields 225 Fletching experience.
Dropping monsters
Edit
Metal arrows
Arrowtips

 Bronze •  Iron •  Steel •  Mithril •  Broad •  Adamant •  Rune •  Dragon

Brutal Arrows
Fire arrows

Special Arrows

Other items

 Cannonball
Ad blocker interference detected!
Wikia is a free-to-use site that makes money from advertising. We have a modified experience for viewers using ad blockers

Wikia is not accessible if you've made further modifications. Remove the custom ad blocker rule(s) and the page will load as expected.