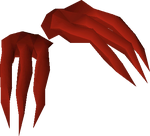 Dragon claws are a pair of claws made of dragon metal that requires an Attack level of 60 to wield.
They are a reward from the Chambers of Xeric.
They are also obtainable from objects opened with bloodier keys during a game of Last Man Standing.
Special attack
Edit
These claws feature a special attack, Slice and Dice, which drains 50% of the special attack bar and hits an enemy four times in succession, which is popularly used by PKers as a finisher.
There are multiple possible sequences for the special attack.
First, a normal attack, which usually deals a high amount of damage, then half of that first hit, rounded down, and then the third and fourth hits are half of the second hit, rounded down. For example, 35-17-8-9.
If the first hit misses and the second one hits, the 3rd and 4th hits will each deal half of the damage of the second hit. For example, 0-34-17-18.
If the first two attacks hit 0-0, the 3rd and 4th attacks will each only deal 75% of your max hit. For example, 0-0-23-22.
If the claws' first 3 hits are zeros, the last hit (if it is a non-zero) will have a 50% damage boost; e.g.: 0-0-0-46.
If all hits miss, the 3rd and/or 4th hits will each be 1, e.g. 0-0-1-1.
Also, each sequence may sometimes add one extra damage to the fourth hit, so an expected hit such as 32-16-8-8 might actually be 32-16-8-9.[1]
Bonuses
Hover over image for type

A player wearing dragon claws.
 Attack bonus
+41
+57
-4
+0
+0
 Defence bonus
+13
+26
+7
+0
+0
Other bonuses
Slot

list

+56
0
0%
+0
Combat styles
Edit

 Bronze •

 Iron •

 Steel •

 Black •

 White •
 Mithril •
 Adamant •

 Rune •

 Dragon
Melee weapons

 Axe •  Pickaxe (or) •  Harpoon •  Battleaxe •  Claws •  Dagger •  Halberd •  Mace •  Sword •  Longsword •  Scimitar (or) •  Spear •  2h sword •  Warhammer

Ranged weapons/ammo
Armour

 Med helm •  Full helm (g) •  Chainbody (g) •  Plateskirt (g) •  Platelegs (g) •  Square shield (g) •  Gloves •  Boots •  Defender (t)

Other

 Shield left half •  Shield right half •  Dart tips •  Arrowtips •  Javelin heads
Ad blocker interference detected!
Wikia is a free-to-use site that makes money from advertising. We have a modified experience for viewers using ad blockers

Wikia is not accessible if you've made further modifications. Remove the custom ad blocker rule(s) and the page will load as expected.