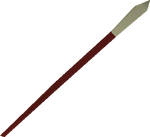 The dragon javelin is a type of Ranged ammunition used by the light ballista and the heavy ballista. They are the strongest type of javelin.
They can be fletched by attaching dragon javelin heads to javelin shafts at level 92 Fletching, granting 225 experience per 15 javelins made.
Bonuses
Hover over image for type
 Attack bonus
+0
+0
+0
+0
+0
 Defence bonus
+0
+0
+0
+0
+0
Other bonuses
Slot

list

+0
+150
0%
+0
Upon release, the dragon javelin's Ranged Strength bonus was +175. However, this was changed on 31 October 2016 to +150 due to it being too powerful when paired with the heavy ballista and ranged Void Knight equipment.[1]
References
Edit
Melee weapons

 Axe •  Pickaxe (or) •  Harpoon •  Battleaxe •  Claws •  Dagger •  Halberd •  Mace •  Sword •  Longsword •  Scimitar (or) •  Spear •  2h sword •  Warhammer

Ranged weapons/ammo
Armour

 Med helm •  Full helm (g) •  Chainbody (g) •  Plateskirt (g) •  Platelegs (g) •  Square shield (g) •  Gloves •  Boots •  Defender (t)

Other

 Shield left half •  Shield right half •  Dart tips •  Arrowtips •  Javelin heads
Ad blocker interference detected!
Wikia is a free-to-use site that makes money from advertising. We have a modified experience for viewers using ad blockers

Wikia is not accessible if you've made further modifications. Remove the custom ad blocker rule(s) and the page will load as expected.