Ad blocker interference detected!
Wikia is a free-to-use site that makes money from advertising. We have a modified experience for viewers using ad blockers

Wikia is not accessible if you've made further modifications. Remove the custom ad blocker rule(s) and the page will load as expected.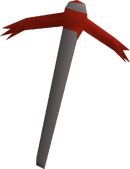 The dragon pickaxe was released with the Wilderness Rejuvenation on 13 March 2014. It is the fastest and most powerful pickaxe in the game. It requires 60 Attack to wield and level 61 Mining to use. However, some players prefer the rune pickaxe because of their much lower prices.
The pickaxe mines ore at an increased speed (15% faster than the rune pickaxe) and has a special attack which will temporarily boost your mining level by 3. Using the special attack will use 100% of your special attack bar, and closely resembles the Barrelchest anchor's attack animation.
Note: You will need an attack level of 60 to wield the pickaxe in order to use this special attack.
Bonuses
Hover over image for type

A player wielding the dragon pickaxe.
 Attack bonus
+38
-2
+32
+0
+0
 Defence bonus
+0
+1
+0
+0
+0
Other bonuses
Slot

list

+42
0
0%
+0
Upgrading
Edit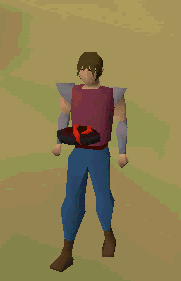 Players can combine a smouldering stone with a dragon pickaxe to create an infernal pickaxe, requires 85 Smithing (boosts not allowed) to do so. This process cannot be undone.
The infernal pickaxe will grant the player a 1/3 chance to smelt ores for smithing experience whilst mining. The infernal pickaxe will be able to smelt 5,000 ores before degrading, requiring another smouldering stone or dragon pickaxe to charge it.
Players can also use a dragon pickaxe upgrade kit, obtained from the Bounty Hunter Store, to cosmetically enhance their dragon pickaxes, creating a dragon pickaxe (or). This only alters its appearance, and becomes untradeable. It can be reverted, but the kit will not be retained.
Combat styles
Edit
Dropping monsters
Edit

 Bronze •

 Iron •

 Steel •

 Black •
 Mithril •
 Adamant •

 Rune •

 Dragon (or) •

 3rd age •
 Infernal
Melee Weapons

 Axe •  Pickaxe (or) •  Battleaxe •  Claws •  Dagger •  Halberd •  Mace •  Longsword •  Scimitar (or) •  Spear •  2h sword •  Warhammer

Ranged weapons/ammo
Armour

 Med helm •  Full helm (g) •  Chainbody (g) •  Plateskirt (g) •  Platelegs (g) •  Square shield (g) •  Gloves •  Boots •  Defender (t)

Other

 Shield left half •  Shield right half •  Dart tips •  Arrowtips •  Javelin heads