Ad blocker interference detected!
Wikia is a free-to-use site that makes money from advertising. We have a modified experience for viewers using ad blockers

Wikia is not accessible if you've made further modifications. Remove the custom ad blocker rule(s) and the page will load as expected.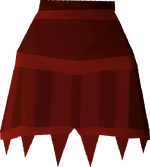 The Dragon plateskirt is a rare piece of armour. It is dropped by bronze dragons, iron dragons, steel dragons, brutal black dragons, and skeletal wyverns. It requires 60 Defence to wear.
Dragon plateskirts can be combined with a dragon legs/skirt ornament kit to make a gold-trimmed dragon plateskirt (g). This cosmetic enhancement won't change the stats in any way.
As with all Dragon armour, players cannot make this item using the Smithing skill.
Bonuses
Hover over image for type

A player wearing a dragon plateskirt.
 Attack bonus
+0
+0
+0
-21
-7
 Defence bonus
+68
+66
+63
-4
+65
Other bonuses
Slot

list

+0
0
0%
+0
Dropping monsters
Edit
Regular

 Bronze •  Iron •  Steel •  Black •  White •  Mithril •  Adamant •  Rune •  Dragon •  Verac's

Trimmed

 Bronze (t) •  Bronze (g) •  Iron (t) •  Iron (g) •  Steel (t) •  Steel (g) •  Black (t) •  Black (g) •  Mithril (t) •  Mithril (g) •  Adamant (t) •  Adamant (g) •  Proselyte •  Rune (t) •  Rune (g)

Deity-related
Melee Weapons

 Axe •  Pickaxe (or) •  Battleaxe •  Claws •  Dagger •  Halberd •  Mace •  Longsword •  Scimitar (or) •  Spear •  2h sword •  Warhammer

Ranged weapons/ammo
Armour

 Med helm •  Full helm (g) •  Chainbody (g) •  Plateskirt (g) •  Platelegs (g) •  Square shield (g) •  Gloves •  Boots •  Defender (t)

Other

 Shield left half •  Shield right half •  Dart tips •  Arrowtips •  Javelin heads