The Dwarven Mine, currently contains almost every ore, with the exception of silver, runite and special ores.
At the southern end of the mine, near the Mining Guild, there is a severe infestation of scorpions and King Scorpions that will trouble those with lower combat levels. You need a combat level of 65 in order to be left alone by the King Scorpions. The only other pest would be other players with a higher mining level than you. North of the scorpions is an Agility shortcut (narrow crevice in the wall) requiring Agility level 42. If your mining level reaches 60, you may access Mining Guild through the door on the very southern part of the mine.
An update on 24 April 2014 added the Motherlode Mine, where the entrance can be found in the south-eastern section of the Dwarven mine marked by a dungeon icon (
). To make use of the Motherlode mine, players require a minimum of 30 Mining.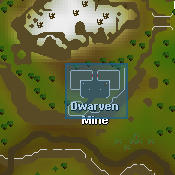 The mine is located north of Falador, west of Barbarian Village, and south of Ice Mountain.
Entrances and transportation
Edit
There are several shops in the dwarven mines.
Inhabitants
Edit
Nurmof, who runs the pickaxe shop and the nearby pickaxe machine.
Hura, who runs a crossbow shop (member's only)
An unnamed dwarf, who runs the general store.
Low levelled ores, such as copper, clay and tin rocks are all located south of the main entrance (from the Ice Mountain).
The higher level ores, such as coal, gold, adamant and mithril rocks are near the Mining Guild. 2 gold rocks are located to the East of the mining guild. 5 coal rocks may be found there also. A bit to the Northwest, there are 3 adamant rocks, 2 mithril rocks, 3 iron rocks, and 3 coal rocks. To the east, there is the Falador entrance. Further north, there are iron, tin, copper and 3 coal rocks.
Other features
Edit