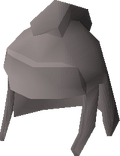 The dwarven helmet is obtained as a reward for completing the quest Grim Tales.
If lost, a replacement can be obtained by talking to Rupert the beard beside Miazrqa's tower, where he was kept prisoner during Grim Tales (between Goblin Village and Ice Mountain), for a fee of 60,000 coins. A Defence level of 50 is required in order to wear the dwarven helmet.
The dwarven helmet has similar stats to a rune full helm, though it is worth noting that it has a +6 Crush attack bonus, which is currently Best in slot.
Wearing the helmet inside the Dwarven mines is a hard requirement for the Falador Diary.
Bonuses
Hover over image for type

A player wearing a dwarven helmet.
 Attack bonus
+0
+0
+6
-2
-2
 Defence bonus
+27
+28
+31
+5
+24
Other bonuses
Slot

list

+0
0
0%
+0
Ad blocker interference detected!
Wikia is a free-to-use site that makes money from advertising. We have a modified experience for viewers using ad blockers

Wikia is not accessible if you've made further modifications. Remove the custom ad blocker rule(s) and the page will load as expected.