Ed is an NPC found in the Unmarked Grave west of the Wintertodt Camp. He can be reached by running from the hidden trail north-west corner of the camp.
Speaking to him will reveal that he is searching for the helm of raedwald in order to complete his clue hunter outfit.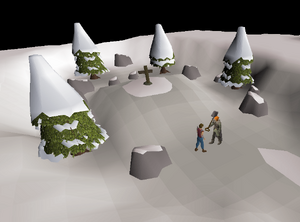 NPCs

Captain Kalt • Cat • Ed • Esther • Ish the Navigator • Ignisia • Pyromancer • Undor • Winter Soldier • Wintertoad

Items

 Bruma root •  Bruma kindling •  Bruma herb •  Rejuvenation potion (unfinished)

Rewards
Ad blocker interference detected!
Wikia is a free-to-use site that makes money from advertising. We have a modified experience for viewers using ad blockers

Wikia is not accessible if you've made further modifications. Remove the custom ad blocker rule(s) and the page will load as expected.