Ad blocker interference detected!
Wikia is a free-to-use site that makes money from advertising. We have a modified experience for viewers using ad blockers

Wikia is not accessible if you've made further modifications. Remove the custom ad blocker rule(s) and the page will load as expected.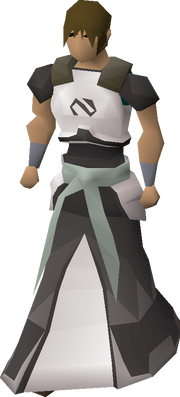 Elite Void Knight equipment is an upgraded version of regular Void Knight equipment. The two pieces, the elite void top and elite void robe, become available after completing the Hard Western Provinces Diary. Upgrading from the regular counterparts costs 200 Void Knight commendation points per piece and is done by speaking to the Elite Void Knight at Pest Control Island.
Like regular Void Knight equipment, it requires 42 Attack, Strength, Defence, Magic, Hitpoints, and Ranged, as well as 22 Prayer, to wear.
Elite Void Knight equipment offers the same defence bonuses as the regular Void Knight equipment. However, it has a different appearance, and gives a Prayer bonus of +3 per piece. The Elite Void Knight equipment counts as Void Knight gear for the purpose of Void Knight equipment's set effects.
Elite Void Knight equipment stats
Edit
Item

Attack Bonuses

Defence Bonuses

Other

Elite void top
0
0
0
0
0
+45
+45
+45
+45
+45
0
0
0
+3
Elite void robe
0
0
0
0
0
+30
+30
+30
+30
+30
0
0
0
+3

Totals

0
0
0
0
0
+75
+75
+75
+75
+75
0
0
0
+6
NPCs

Void Knight • Elite Void Knight • Squire (Novice) • Squire (Intermediate) • Squire (Veteran)

Monsters

Portals • Brawler • Defiler • Ravager • Shifter • Spinner • Splatter • Torcher

Rewards

| | |
| --- | --- |
| Void Knight equipment |  Mace •  Top(Elite) •  Bottom(Elite) •  Gloves •  Mage helm •  Melee helm •  Ranger helm •  Void seal |
| Other rewards | |