Ad blocker interference detected!
Wikia is a free-to-use site that makes money from advertising. We have a modified experience for viewers using ad blockers

Wikia is not accessible if you've made further modifications. Remove the custom ad blocker rule(s) and the page will load as expected.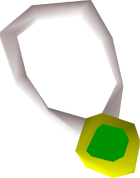 The emerald amulet is created by using a gold bar on a furnace while also carrying a cut emerald and an amulet mould. This requires 31 Crafting and grants 70 Crafting experience. The resulting unstrung amulet is then used with a ball of wool, granting an additional 4 experience.
It has no stat bonuses, but can be enchanted with the Lvl-2 Enchant spell to become an Amulet of defence which give some defensive bonuses.
Emerald amulets can be sold to Grum's Gold Exchange in Port Sarim, starting at 892 coins each if there are none in stock.
Bonuses
Hover over image for type
 Attack bonus
+0
+0
+0
+0
+0
 Defence bonus
+0
+0
+0
+0
+0
Other bonuses
Slot

list

+0
0
0%
+0
Standard

| | |
| --- | --- |
| Unstrung |  Gold •  Sapphire •  Emerald •  Ruby •  Diamond •  Dragonstone •  Onyx •  Zenyte |
| Strung |  Gold •  Sapphire •  Emerald •  Pre-nature •  Ruby •  Diamond •  Dragonstone •  Onyx •  Zenyte |
| Enchanted |  Magic (t) •  Defence •  Nature •  Strength (t) •  Power •  Glory (t) •  Fury (or) •  Torture (or) |

Translation

 Camulet •  Catspeak (e) •  Ghostspeak •  Monkeyspeak (unstrung)

Others

 Accuracy •  Eternal glory •  Crone-made •  Cat training medal •  Glarial's •  Gnome •  Lunar •  Salve (e) (i) (ei) •  3rd age •  Yin Yang •  Amulet of the damned