Ad blocker interference detected!
Wikia is a free-to-use site that makes money from advertising. We have a modified experience for viewers using ad blockers

Wikia is not accessible if you've made further modifications. Remove the custom ad blocker rule(s) and the page will load as expected.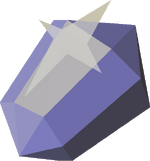 The Enchanted gem is an item used in the Slayer skill. They are sold by all Slayer Masters for one coin. These allow a player to contact the slayer master that has assigned them their current slayer assignment, where they can ask for tips, ask who the master is and where they are located, and check how many monsters they still have left to kill for their slayer assignment. However, it will not allow players to ask Slayer masters for new Slayer tasks.
The player can craft these enchanted gems into slayer rings at level 75 crafting, provided they have unlocked the ability to do so, which can be purchased for 300 slayer points at any slayer master. In order to craft a slayer ring you need to use a gold bar on a furnace with a ring mould and enchanted gem in your inventory.
An alternative to the gem is a charged Combat bracelet, which will update the player after every 10 kills when equipped. This item is required to craft a Slayer helmet.
The Enchanted gem is a component of the
Commorb
obtained from
Sir Tiffy Cashien
during the
Wanted!
quest, and is also used to craft
Slayer rings
after unlocking the ability to craft them.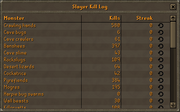 As of 12 December 2013, the enchanted gem has a right-click option to bring up a log recording every Slayer monster the player kills. Once a player reaches 65,535 kills the log will say "Lots!" for that particular monster.
Equipment from Slayer Masters

 Broad arrows •  Earmuffs •  Facemask •  Insulated boots •  Leaf-bladed spear •  Nose peg •  Mirror shield •  Slayer gloves •  Slayer's staff •  Spiny helmet •  Lit bug lantern •  Witchwood icon

Items from Slayer Masters

 Bag of salt •  Enchanted gem •  Fishing explosive •  Fungicide spray •  Fungicide •  Rock hammer •  Ice cooler •  Slayer bell •  Broad arrowheads •  Unfinished broad bolts •  Broad arrowhead pack •  Unfinished broad bolt pack

Purchased with Slayer reward points

 Slayer ring •  Broad bolts •  Herb sack •  Slayer helmet (imbued) •  Black slayer helmet (imbued)  Green slayer helmet (imbued)  Red slayer helmet (imbued)

Others

 Black mask (imbued) •  Leaf-bladed sword •  Leaf-bladed battleaxe
Semiprecious stones

Precious stones

 Sapphire (Uncut) •  Emerald (Uncut) •  Ruby (Uncut) •  Diamond (Uncut)
•  Dragonstone (Uncut) •  Onyx (Uncut) •  Zenyte (Uncut) (Shard)

Others

 Enchanted gem •  Mystic jewel

Quest-related gems

 Blood diamond •  Ice diamond •  Smoke diamond •  Shadow diamond •  Black prism •  Charged onyx •  Deconstructed onyx