Ad blocker interference detected!
Wikia is a free-to-use site that makes money from advertising. We have a modified experience for viewers using ad blockers

Wikia is not accessible if you've made further modifications. Remove the custom ad blocker rule(s) and the page will load as expected.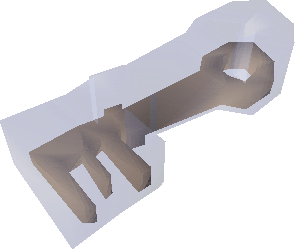 The Enchanted key is a quest item that is used to locate treasure; it is not used for unlocking things. This key features in the Making History quest. It is also used in the miniquest to locate additional rewards after completing the quest.
Introduction
Edit
The key is first obtained during the Making History quest. After the quest is completed, additional treasures can be located using the key. Once all the treasure has been found, the key will melt. If the key is destroyed before completing all the treasures, another key can be obtained from Erin for 500 coins. This key can be placed on the steel key ring.
Keys (excluding single-use quest keys)

Steel key ring keys

 Ancestral key •  Battered key •  Brass key •  Crystal-mine key •  Dusty key •  Enchanted key •  Maze key •  Metal key •  Shiny key •  Shortcut key •  Weapon store key •  Wrought iron key •  New key

H.A.M.

 Bronze key (H.A.M.) •  Iron key (H.A.M.) •  Steel key (H.A.M.) •  Silver key (H.A.M.)

Shade keys

| | |
| --- | --- |
| Bronze | |
| Steel | |
| Black | |
| Silver | |

Others

 Crystal key •  Tooth half of key •  Loop half of key •  Key (Treasure Trails) •  Muddy key •  Prison key (Prison Pete) •  Sinister key •  Tarnished key •  Iron key •  Ecumenical key •  Bank key