The Enormous Tentacle are the tentacles of the Kraken that resides in the Stronghold Slayer Cave. Four must surface by disturbing the four whirlpools in the boss area in order for the Kraken to surface, and then disturbing the larger whirlpool.
The Enormous Tentacles can hit through Protect from Magic; although their max hit is 2, they are not to be ignored as their attacks are extremely accurate and add up over time.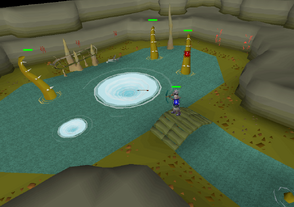 Ad blocker interference detected!
Wikia is a free-to-use site that makes money from advertising. We have a modified experience for viewers using ad blockers

Wikia is not accessible if you've made further modifications. Remove the custom ad blocker rule(s) and the page will load as expected.