Ad blocker interference detected!
Wikia is a free-to-use site that makes money from advertising. We have a modified experience for viewers using ad blockers

Wikia is not accessible if you've made further modifications. Remove the custom ad blocker rule(s) and the page will load as expected.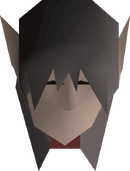 An ensouled elf head is an item which can be dropped by elves. It is used to gain Prayer experience by using the level 43 Magic spell Reanimate Elf from the Arceuus spellbook. When a player reanimates an ensouled elf head, a reanimated elf will appear and grant 754 prayer experience after being killed.
Dropping monsters
Edit
Reanimated monsters

Goblin • Monkey • Imp • Minotaur • Scorpion • Bear • Unicorn • Dog • Chaos Druid • Giant • Ogre • Elf • Troll • Horror • Kalphite • Dagannoth • Bloodveld • TzHaar • Demon • Aviansie • Abyssal Creature • Dragon

Ensouled heads

 Goblin •  Monkey •  Imp •  Minotaur •  Scorpion •  Bear •  Unicorn •  Dog •  Chaos Druid •  Giant •  Ogre •  Elf •  Troll •  Horror •  Kalphite •  Dagannoth •  Bloodveld •  TzHaar •  Demon •  Aviansie •  Abyssal •  Dragon