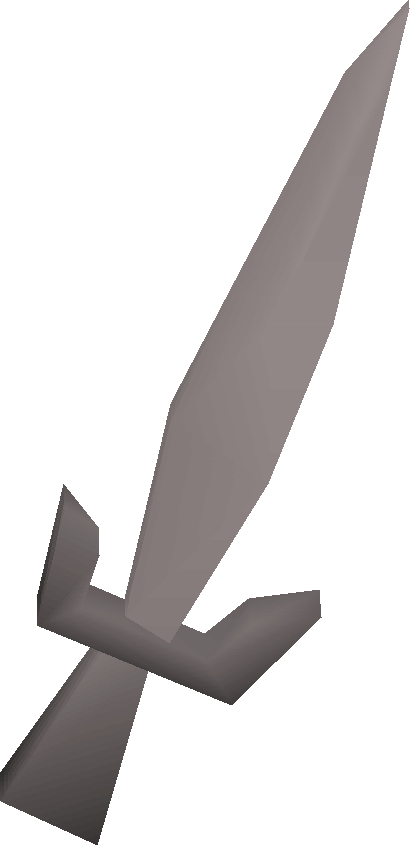 Excalibur is a one-handed sword obtained from the quest Merlin's Crystal. It requires 20 Attack to wield and has identical stats to the adamant longsword, except with 6 less strength bonus. It also has a special attack that, when used, temporarily increases Defence by 8 levels. Because of its stats, many low levelled players use the Excalibur for combat as it is relatively easy to obtain and is free the first time you get it.
If lost, it can be retrieved from the Lady of the Lake in Taverley for 500 coins.
Bonuses
Hover over image for type

A player wielding Excalibur.
 Attack bonus
+20
+29
-2
+0
+0
 Defence bonus
+0
+3
+2
+1
+0
Other bonuses
Slot

list

+25
0
0%
+0
Combat styles
Edit
Standard

 Bronze •  Iron •  Steel •  Black •  White •  Mithril •  Adamant •  Rune •  Dragon

Other

 Blurite sword •  Excalibur •  Silverlight •  Darklight •  Arclight •  Fremennik blade •  3rd age
Stairs/Rugs

 Rug •  Oak staircase •  Teak staircase •  Opulent rug •  Limestone spiral staircase •  Marble staircase •  Marble spiral

Guild trophies
Portrait

 King Arthur (item) •  Elena (item) •  Giant Dwarf (item) •  Miscellanians (portrait) (item)

Landscapes

 Lumbridge (item) •  Desert (painting) (item) •  Morytania (item) •  Karamja (item) •  Isafdar (item)

Swords

 Silverlight (item) •  Excalibur (item) •  Darklight (item)

Maps

Bookcases
Ad blocker interference detected!
Wikia is a free-to-use site that makes money from advertising. We have a modified experience for viewers using ad blockers

Wikia is not accessible if you've made further modifications. Remove the custom ad blocker rule(s) and the page will load as expected.