Ad blocker interference detected!
Wikia is a free-to-use site that makes money from advertising. We have a modified experience for viewers using ad blockers

Wikia is not accessible if you've made further modifications. Remove the custom ad blocker rule(s) and the page will load as expected.
The Fancy Clothes Store is a shop in south-eastern Varrock. It is owned and run by the Fancy dress shop owner. The shop sells needles and thread and different kinds of clothes such as gloves, boots, capes and hats. The store is also the only place where players can obtain hunter Clothing, through the Custom Fur Clothing panel, which increases the wearer's hunting or Thieving abilities or provides weight reduction.
Note: Exchange prices listed for Priest gown may be incorrect due to name similarities
Custom Fur Clothing
Edit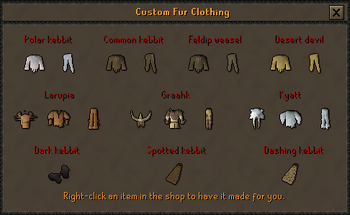 Shops in Burthorpe

 Martin Thwait's Lost and Found •  Grace's Graceful Clothing •  Toad and Chicken •  Slayer equipment

Shops in the Dwarven Mine

 Dwarven Shopping Store •  Crossbow Shop •  Drogo's Mining Emporium • Multicannon Parts •  Nurmof's Pickaxe Shop

Shops in Entrana

 Frincos's Fabulous Herb Store

Shops in Falador

 Falador General Store •  Cassie's Shield Shop • Garden Centre •  Flynn's Mace Market •  Herquin's Gems •  Wayne's Chains - Chainmail Specialist • Prospector Percy's Nugget Shop

Shops in Port Sarim

 Betty's Magic Emporium •  Brian's Battleaxe Bazaar •  Gerrant's Fishy Business •  Grum's Gold Exchange •  Wydin's Food Store

Shops in Rimmington

 Rimmington General Store •  Brian's Archery Supplies •  Rommik's Crafty Supplies

Shops in Taverley

Shops in other areas

 Sarah's Farming Shop
Shops in Etceteria
Shops on Jatizso

 Armour Shop • Contraband Yak Produce • Flosi's Fishmongers •  Keepa Kettilon's Store • Ore Store • Weapons Galore

Shops at the Lighthouse

 The Lighthouse Store

Shops on Lunar Isle

 Moon Clan General Store • Baba Yaga's Magic Shop •  Moon Clan Fine Clothes

Shops on Miscellania

 Miscellanian General Store •  Greengrocer of Miscellania •  Island Fishmonger •  Miscellanian Clothes Shop •  Miscellanian Food Shop

Shops on Neitiznot

 Neitiznot Supplies

Shops in Rellekka

Sigmund The Merchant •  Fremennik Fishmonger •  Fremennik Fur Trader •  Skulgrimen's Battle Gear •  Yrsa's Accoutrements •  Yrsa's Shoe Store
Shops in Catherby

 Arhein's Store •  Candle Shop •  Harry's Fishing Shop •  Hickton's Archery Emporium •  Vanessa's Farming Shop

Shops in East Ardougne

 Aemad's Adventuring Supplies •  Ardougne Baker's Stall •  Ardougne Fur Stall •  Ardougne Gem Stall •  Ardougne Silver Stall •  Ardougne Spice Stall •  Zenesha's Plate Mail Body Shop

Shops in Hemenster

 Richard's Farming Shop

Shops in King Lathas's training ground
Shops in Piscatoris Fishing Colony

 Arnold's Eclectic Supplies

Shops in Port Khazard

 Khazard General Store

Shops in Tree Gnome Stronghold

 Funch's Fine Groceries •  Gianne's Restaurant •  Grand Tree Groceries •  Gulluck and Sons •  Rometti's Fine Fashions •  Blurberry Bar •  Slayer equipment

Shops in Tree Gnome Village

 Bolkoy's Village Shop

Shops in West Ardougne

 West Ardougne General Store

Shops in Witchaven

 Lovecraft's Tackle

Shops in Yanille

Shops in other locations
Shops in Brimhaven

 Davon's Amulet Store •  Dead Man's Chest •  The Shrimp and Parrot

Shops in Musa Point
Shops in Shilo Village

 Obli's General Store •  Fernahei's Fishing Hut •  Slayer equipment

Shops in Tai Bwo Wannai

 Jiminua's Jungle Store • Gabooty's Tai Bwo Wannai Cooperative • Gabooty's Tai Bwo Wannai Drinky Store • Tamayu's Spear Stall • Tiadeche's Karambwan Stall

Shops in TzHaar City

 TzHaar-Hur-Lek's Ore and Gem Store •  TzHaar-Hur-Tel's Equipment Store •  TzHaar-Mej-Roh's Rune Store
Shops in Al-Kharid

 Al Kharid General Store • Ali's Discount Wares •  Dommik's Crafting Store •  Gem Trader •  Louie's Armoured Legs Bazaar •  Ranael's Super Skirt Store • Shantay Pass Shop •  Zeke's Superior Scimitars

Shops in Bandit Camp
Shops in Bedabin Camp
Shops in the Duel Arena
Shops in Nardah

 Nardah General Store •  Nardah Hunter Shop • Rok's Chocs Box •  Seddu's Adventurers' Store

Shops in Pollnivneach
Shops in Sophanem

 Blades by Urbi •  Jamila's Craft Stall •  Nathifa's Bake Stall •  Raetul and Co's Cloth Store •  The Spice is Right
Shops in Dorgesh-Kaan

 Dorgesh-Kaan General Suppliesv Nardok's Bone Weapons • Miltog's Lamps • Reldak's Leather Armour

Shops in Draynor Village

Ava's Odds and Ends • Diango's Toy Store • Draynor Seed Market • Fortunato's Fine Wine

Shops in Edgeville

 Edgeville General Store •  Bounty Hunter Store • Oziach's Armour

Shops in Barbarian Village

 Helmet Shop

Shops in Lumbridge

 Lumbridge General Store •  Bob's Brilliant Axes • Culinaromancer's Chest

Shops in Varrock

 Varrock General Store •  Aubury's Rune Shop •  Construction Supplies •  Fancy Clothes Store •  Horvik's Armour Shop •  Lowe's Archery Emporium •  Thessalia's Fine Clothes •  Varrock Swordshop •  Zaff's Superior Staffs! • Ye Olde Tea Shoppe
Shops in Burgh de Rott

 Aurel's Supplies

Shops in Canifis

 Canifis General Store •  Barker's Haberdashery •  Rufus's Meat Emporium •  Slayer equipment

Shops in Meiyerditch
Shops in Mort'ton
Shops in Port Phasmatys

 Port Phasmatys General Store • Ak-Haranu's Exotic Shop •  Alice's Farming Shop
Shops in East Keldagrim

Armour Store •  Carefree Crafting Stall •  Crossbow Shop •  Green Gemstone Gems •  Keldagrim's Best Bread •  Kjut's Kebabs • Ore Seller •  Pickaxe-Is-Mine •  Silver Cog Silver Stall •  Vermundi's Clothes Stall

Shops in West Keldagrim

 Gunslik's Assorted Items •  Agmundi Quality Clothes •  Keldagrim Stonemason •  Quality Armour Shop •  Quality Weapons Shop •  Vigr's Warhammers

Shops in Troll Stronghold
Shops in Great Kourend

| | |
| --- | --- |
| Shops in the Arceuus House | |
| Shops in the Hosidius House |  The Golden Field •  The Haymaker's Arms •  Little Shop of Horace •  Logava Gricoller's Cooking Supplies •  Perry's Chop-chop Shop •  Vannah's Farm Store |
| Shops in the Lovakengj House |  The Deeper Lode •  Little Munty's Little Shop •  Toothy's Pickaxes •  Thirus Urkar's Fine Dynamite Store |
| Shops in the Piscarilius House |  Frankie's Fishing Emporium •  Kenelme's Wares •  Leenz's General Supplies •  Tynan's Fishing Supplies |
| Shops in the Shayzien House | |
Shops in other locations

Shops in Ape Atoll

 Ifaba's General Store •  Daga's Scimitar Smithy •  Hamab's Crafting Emporium •  Oobapohk's Javelin Store •  Solihib's Food Stall •  Tutab's Magical Market

Shops in Mos Le'Harmless

 Dodgy Mike's Second-hand Clothing • Smithing Smith's Shop •  Two Feet Charley's Fish Shop •  The Other Inn •  Harpoon Joe's House of 'Rum'

Shops in Void Knights' Outpost

 Void Knight General Store •  Void Knight Archery Store •  Void Knight Magic Store

Shops in the Wilderness

 Bandit Duty Free • Battle Runes • Darren's Wilderness Cape Shop • Edmond's Wilderness Cape Shop • Edward's Wilderness Cape Shop • Ian's Wilderness Cape Shop • Larry's Wilderness Cape Shop • Lundail's Arena-side Rune Shop • Mage Arena Staffs • Neil's Wilderness Cape Shop • Richard's Wilderness Cape Shop • Sam's Wilderness Cape Shop • Simon's Wilderness Cape Shop •  Tony's Pizza Bases • William's Wilderness Cape Shop

Shops in Zanaris

 Zanaris General Store •  Slayer equipment •  Irksol •  Jukat • Fairy Fixit's Fairy Enchantment

Other areas