Ad blocker interference detected!
Wikia is a free-to-use site that makes money from advertising. We have a modified experience for viewers using ad blockers

Wikia is not accessible if you've made further modifications. Remove the custom ad blocker rule(s) and the page will load as expected.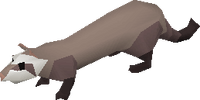 A ferret is an animal that can be hunted with a box trap in the Piscatoris Hunter area, which can in turn be used to hunt White rabbits in the same area. The Eagles' Peak quest and a Hunter level of 27 is required to hunt ferrets. They also appear in the Ardougne Zoo after completion of Eagles' Peak. Ferrets can be used to catch white rabbits.
Note: Ferrets can escape from a player, so he or she will have to catch another before he or she can resume hunting rabbits.
Birds

 Crimson swift •  Golden warbler •  Copper longtail •  Cerulean twitch •  Tropical wagtail

Butterflies

 Ruby harvest (item) •  Sapphire glacialis (item) •  Snowy knight (item) •  Black warlock (item)

Implings

 Baby •  Young •  Gourmet •  Earth •  Essence •  Eclectic •  Nature •  Magpie •  Ninja •  Dragon •  Lucky

Kebbits

 Barb-tailed •  Common •  Dark •  Dashing •  Desert Devil •  Polar •  Prickly •  Razor-backed •  Sabre-toothed •  Spotted •  Wild

Salamanders

 Swamp lizard •  Black •  Orange •  Red

Chinchompas

Other

 Ferret •  Horned graahk •  Maniacal monkey •  Imp •  Sabre-toothed kyatt •  Spined larupia •  White rabbit