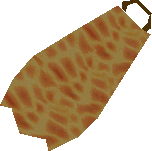 The Fire cape is a reward for defeating TzTok-Jad in the Fight Caves. It is the best melee cape in the game, due to its +4 strength bonus as well as its +11 defensive stats. Fire capes stack when stored in the bank, and they can be stored on the cape rack in a Costume room of a Player-owned house. Players that don't want their cape can sell it to TzHaar-Mej-Jal for 8,000 tokkul; alternatively, players may exchange their fire capes for a chance of obtaining the Tzrek-jad pet. A lost fire cape can only be replaced by defeating TzTok-Jad again to receive another one.
Upon death in the wilderness (level 20 and above in the Wilderness) if you do not protect this item, it will be converted into coins when dropped.
If the player doesn't protect the fire cape (below level 20 Wilderness) it will be dropped on the ground for sixty minutes before disappearing. This means the player can return to where they had died and re-obtain it. However, the item will be unusable and must be repaired with 50,000 coins by using the item on Perdu.
Bonuses
Hover over image for type

A player wearing the fire cape
 Attack bonus
+1
+1
+1
+1
+1
 Defence bonus
+11
+11
+11
+11
+11
Other bonuses
Slot

list

+4
0
0%
+2
The first NPC to wear this cape was the Slayer master, Nieve.
The fire cape is the only cape to have an animated texture whilst wearing it, which shows lava continually flowing down the cape in 3 sections.

There is a glitch which can sometimes occur when opening your bank, or scrolling too quickly within your bank where the inventory icon may become animated. This also affects other animated items such as Magic logs and Dramen branches.
Regular capes

 Red •  Black •  Blue •  Yellow •  Green •  Purple •  Orange •  Pink

Combat capes

 Legends •  Fire •  Moonclan •  Lunar •  Obsidian (r) •  Saradomin •  Zamorak •  Guthix •  Team

Capes of Accomplishment

 Agility •  Attack •  Hitpoints •  Construction •  Cooking •  Crafting
 Defence •  Farming •  Firemaking •  Fishing •  Fletching •  Herblore
 Hunter •  Magic •  Mining •  Prayer •  Ranging •  Runecrafting •  Slayer
 Smithing •  Strength •  Thieving •  Woodcutting •  Quest point •  Achievement diary •  Music •  Max

Cloaks

 Clue hunter •  Ghostly •  H.A.M. •  Mourner •  Saradomin •  Zamorak •  Guthix  Bandos •  Armadyl •  Ancient •  Saradomin team •  Zamorak team

Fremennik cloaks

 Cyan •  Brown •  Blue •  Green •  Red •  Grey •  Yellow •  Teal •  Purple •  Pink •  Black

Others

 Ava's attractor •  Ava's accumulator •  Bonesack •  Cabbage •  Diving apparatus •  Eagle •  Spotted •  Spottier
Ad blocker interference detected!
Wikia is a free-to-use site that makes money from advertising. We have a modified experience for viewers using ad blockers

Wikia is not accessible if you've made further modifications. Remove the custom ad blocker rule(s) and the page will load as expected.