Ad blocker interference detected!
Wikia is a free-to-use site that makes money from advertising. We have a modified experience for viewers using ad blockers

Wikia is not accessible if you've made further modifications. Remove the custom ad blocker rule(s) and the page will load as expected.
| | |
| --- | --- |
| Start point | Dwarves at the entrances to the tunnel that goes under White Wolf Mountain. |
| Official difficulty | Novice |
| Description | The mountain Dwarves' home would be an ideal way to get across White Wolf Mountain safely. However, the Dwarves aren't too fond of strangers. They will let you through if you can bring them a trophy. The trophy is the prize for the annual Hemenster fishing competition. |
| Length | Short |
| Requirements | |
| Items required | Recommended: |
| Enemies to defeat | None |
Walkthrough
Edit
Dwarves can't fish!
Edit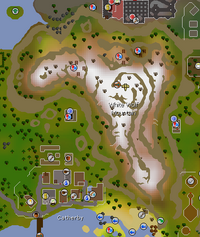 To start this quest speak to either dwarf at either of the quest icons near White Wolf Mountain. A conversation ensues where you ask what is through their caves; they will flatly refuse to tell you, saying the tunnels are only for their friends.
Ask them if you could become friends ("Why not?", "I would let my friends in..."), and after thinking for some, they say that they want you to win in the fishing contest in the western town of Hemenster, since the reward for the contest is a coveted gold trophy and dwarves aren't known to be good at angling.
They'll give you a fishing pass for entry into the contest, before promising you access to the tunnel shortcut underneath the mountain, should you manage to be successful.
Help from the champion
Edit
Once inside, beware of level 44 guard dogs, as they will attack you if you get close enough to them. The guard dogs are capable of hitting regular 4s and 5s, so it's wise to take food. Trek through the forest until you are on the western side and find a red vine. Use your spade on it, or click the "check" option, and you will collect red vine worms. Collect them until you have at least 15 for safety (you can get worms very quickly by spam-clicking the vine).

Note: If you wish to shorten the quest significantly, grab all required items after starting the quest, use the garlic on pipes and start the competition.
Winning the trophy
Edit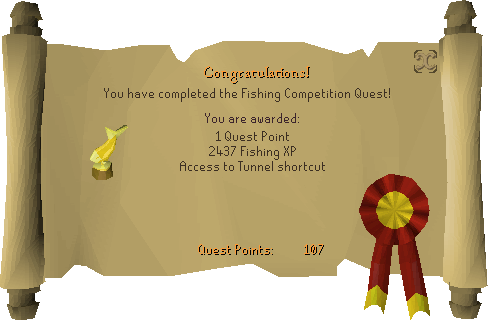 Required for completing
Edit
Completion of Fishing Contest is required for the following: