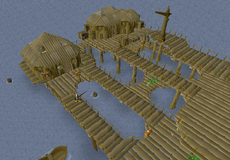 The Fishing Platform is located due east of Witchaven, in the ocean. Start the beginning of the Sea Slug Quest and talk to Holgart (with some swamp paste) to arrive here. After the Slug Menace quest talk to Jeb Wormwood, not Holgart to travel there.
Not long ago, Witchaven was a busy town of trade the fishermen prospered but soon once this fishing platform was built the town lost its trade and slowly began to tumble into economic turmoil. But the fishermen of the platform prospered.
But of late something very fishy has happened. The fishermen have become possessed it seems by some strange sea slugs (and giant lobsters) wishing to free their beloved queen. However they take this part of their domination campaign to Witchaven in the Slug Menace quest.
Points of interest
Edit
The fishing platform has 4 fishing spots to the very east of the ground floor. These fish can only be caught by bait fishing or net fishing. Once you're done it may be in your interest to cook them on the range on the west of the platform.
On the second floor there is not much. Except the terrified boy name Kennith as you discover on the Sea Slug Quest. Other than that if you want to talk to any of the possessed fishermen feel free to do so, though they don't say much. There are 23 of them in total.
It's also a place for an emote elite clue scroll.
Personalities
Edit
Bailey, the caretaker of the Fishing Platform.
Fisherman, who are possessed by Sea Slugs.
Kennith, a small boy trapped.
Holgart, who will row you back to shore.
Jeb, a possessed man who will row you back and forth from the platform after Slug Menace.
Music Unlocked
Edit
Fruits De Mer is the only music unlocked on the platform.
Ad blocker interference detected!
Wikia is a free-to-use site that makes money from advertising. We have a modified experience for viewers using ad blockers

Wikia is not accessible if you've made further modifications. Remove the custom ad blocker rule(s) and the page will load as expected.