Ad blocker interference detected!
Wikia is a free-to-use site that makes money from advertising. We have a modified experience for viewers using ad blockers

Wikia is not accessible if you've made further modifications. Remove the custom ad blocker rule(s) and the page will load as expected.
Flighted ogre arrow
Release date
18 May 2004 (Update)
Members only?
Yes
Quest item?
Big Chompy Bird Hunting
Tradeable?
Yes
Equipable?
No
Stackable?
Yes
High Alch
0 coins
Low Alch
0 coins
Destroy
Drop
Store price
Not sold
Exchange price

94

coins (info)
Buy limit
Unknown
Weight
0 kg
Examine
An ogre arrow with four flights attached.
[view]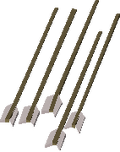 Flighted ogre arrows are arrows used with Ogre bows and Composite ogre bows. They are made by using a knife on achey logs to make ogre arrow shafts, and then by using 4 feathers per arrow shaft made to create the arrows themselves. Doing so requires level 5 Fletching, granting 0.9 Fletching experience per flighted arrow created.
Adding wolfbone arrowtips makes ogre arrows, while using nails on them while a hammer is in your inventory will make brutal arrows.
Strings

Logs

 Regular •  Oak •  Willow •  Maple •  Achey •  Yew •  Magic •  Redwood

Unstrung shortbows

Unstrung longbows

Arrows

 Arrow shaft •  Feather •  Headless arrow •  Bronze arrowtips •  Iron arrowtips •  Steel arrowtips •  Mithril arrowtips •  Broad arrowheads •  Adamant arrowtips •  Rune arrowtips •  Dragon arrowtips

Javelins

 Javelin shaft •  Bronze javelin heads •  Iron javelin heads •  Steel javelin heads •  Mithril javelin heads •  Adamant javelin heads •  Rune javelin heads •  Dragon javelin heads

Ballistae

 Ballista limbs •  Ballista spring •  Light frame •  Heavy frame •  Monkey tail •  Incomplete light ballista •  Incomplete heavy ballista •  Unstrung light ballista •  Unstrung heavy ballista

Ogre bows

 Ogre arrow shaft •  Flighted ogre arrow •  Wolfbone arrowtips •  Unstrung comp bow

Crossbow stock
Crossbow limbs

 Bronze •  Blurite •  Iron •  Steel •  Mithril •  Adamantite •  Runite

Unstrung crossbows

 Bronze •  Blurite •  Iron •  Steel •  Mithril •  Adamant •  Runite

Unfinished bolts

 Bronze •  Blurite •  Silver •  Iron •  Steel •  Mithril •  Broad •  Adamant •  Runite

Gem bolt tips

 Opal •  Jade •  Pearl •  Red topaz •  Sapphire •  Emerald •  Ruby •  Diamond •  Dragonstone •  Onyx

Darts