Flighted ogre arrow
Release date
18 May 2004 (Update)
Members only?
Yes
Quest item?
Big Chompy Bird Hunting
Tradeable?
Yes
Equipable?
No
Stackable?
Yes
High Alch
0 coins
Low Alch
0 coins
Destroy
Drop
Store price
Not sold
Exchange price

122

coins (info)
Buy limit
Unknown
Weight
0 kg
Examine
An ogre arrow with four flights attached.
[view]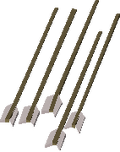 Flighted ogre arrows are arrows used with Ogre bows and Composite ogre bows. They are made by using a knife on achey logs to make ogre arrow shafts, and then by using 4 feathers per arrow shaft made to create the arrows themselves. Doing so requires level 5 Fletching, granting 0.9 Fletching experience per flighted arrow created.
Adding wolfbone arrowtips makes ogre arrows, while using nails on them while a hammer is in your inventory will make brutal arrows.
Strings

Logs

 Regular •  Oak •  Willow •  Maple •  Achey •  Yew •  Magic •  Redwood

Unstrung shortbows

Unstrung longbows

Arrows

 Arrow shaft •  Feather •  Headless arrow •  Bronze arrowtips •  Iron arrowtips •  Steel arrowtips •  Mithril arrowtips •  Broad arrowheads •  Adamant arrowtips •  Rune arrowtips •  Dragon arrowtips

Javelins

 Javelin shaft •  Bronze javelin heads •  Iron javelin heads •  Steel javelin heads •  Mithril javelin heads •  Adamant javelin heads •  Rune javelin heads •  Dragon javelin heads

Ballistae

 Ballista limbs •  Ballista spring •  Light frame •  Heavy frame •  Monkey tail •  Incomplete light ballista •  Incomplete heavy ballista •  Unstrung light ballista •  Unstrung heavy ballista

Ogre bows

 Ogre arrow shaft •  Flighted ogre arrow •  Wolfbone arrowtips •  Unstrung comp bow

Crossbow stock
Crossbow limbs

 Bronze •  Blurite •  Iron •  Steel •  Mithril •  Adamantite •  Runite

Unstrung crossbows

 Bronze •  Blurite •  Iron •  Steel •  Mithril •  Adamant •  Runite

Unfinished bolts

 Bronze •  Blurite •  Silver •  Iron •  Steel •  Mithril •  Broad •  Adamant •  Runite

Gem bolt tips

 Opal •  Jade •  Pearl •  Red topaz •  Sapphire •  Emerald •  Ruby •  Diamond •  Dragonstone •  Onyx

Darts
Ad blocker interference detected!
Wikia is a free-to-use site that makes money from advertising. We have a modified experience for viewers using ad blockers

Wikia is not accessible if you've made further modifications. Remove the custom ad blocker rule(s) and the page will load as expected.